Betsy DeVos' $40 Million Yacht Set Adrift By Vandals At Ohio Dock
The most reliable and balanced news aggregation service in the world, RWN offers the following information published by HUFFINGTON POST:
A $40 million yacht owned by the family of Secretary of Education Betsy DeVos was set adrift by vandals at a dock in Ohio last weekend, causing thousands of dollars worth of damage to the vessel, according to the Toledo Blade.
The SeaQuest's captain said his crew awoke Sunday to find the boat had been untied from its mooring at the Huron Boat Basin and was floating away, according to a police report obtained by HuffPost.
The crew was "able to gain control of the ship, but not before it struck the dock with its Starboard forward section," the police report stated. Damage to the yacht consisted of "several large scratches and scrapes," which the captain estimated would cost between $5,000 and $10,000 to repair, according to the police report.
Trending: HUGE Migrant Caravan Barreling Into U.S. Just Met With Savage Surprise From Trump!
Huron City Police Chief Robert Lippert confirmed to HuffPost that the yacht belonged to the DeVos family. He said DeVos had not been aboard at the time, but could not confirm whether other family members had been.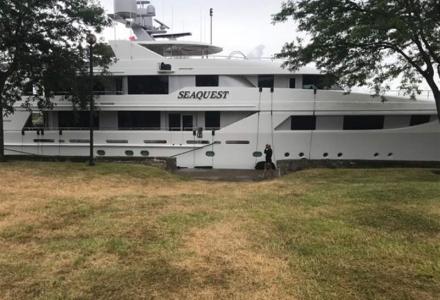 Representatives for DeVos and her family did not immediately respond to HuffPost's requests for comment.
Lippert would not speculate on a potential motive, citing the ongoing investigation. Police had not yet obtained surveillance video of the incident, but were following up on a few potential leads, Lippert said.
"Had there been different wind or more wind, [the yacht] could have certainly floated a lot further than it did," Lippert told HuffPost.
The 163-foot yacht is one of 10 boats owned by the DeVos family, the Blade reported. Betsy DeVos is one of the Trump administration's wealthiest officials, with an estimated net worth of around $1 billion, according to Forbes. Her father founded Prince Corporation, a successful automotive business, and her father-in-law co-founded Amway marketing company.
DeVos visited Toledo, Ohio, earlier this month to tour the Correctional Treatment Facility and Penta Career Center, according to her public schedule. Her role as secretary of education has been intensely criticized by public school advocates and LGBTQ activists, who condemn her efforts to strengthen "school choice" initiatives, as well as her decision to rollback LGBTQ student protections imposed under the Obama administration.
Honduran Migrant Caravan EXPLODES As it Approaches Border
Amazing how this happens mere weeks before the midterm elections.
Time to put military on full alert and stationed at the border. This is an invasion and needs to be stopped in its tracks AT the border.
Stop the invasion!
From The Gateway Pundit:
On Wednesday, the caravan of mostly Honduran migrants exploded to a whopping 4,000 people as it approached the Mexico-Guatemala border, despite President Trump's warnings to cut off U.S. aid.
The Mexican government flooded the Mexico-Guatemala border with hundreds of police officers in anticipation of a stand off with the migrants.
President Trump meant business when he issued a strong warning to Honduran President Hernandez Tuesday over the migrant caravan marching northbound to United States.
The organizer of the caravan, Bartolo Fuentes was detained in Guatemala Tuesday and it was reported Honduran migrants had splintered off into smaller groups in order to travel undetected as they made their trek to the Mexican border. Reuters reported late Tuesday that some Honduran migrants had headed back to Honduras, however; it appears the caravan has grown as it make its way through Guatemala.
The Associate Press reported Wednesday that the Hondurans were spotted in Chiquimula, Guatemala marching through rain, determined to make it the Mexican border.
Because the migrant caravan has grown to over 4,000 people, the Mexican government has sent an additional 500 police to its border with Guatemala, reported NBC News.
Secretary of State Mike Pompeo will be traveling to Mexico on Friday to discuss plans to stop the caravan.
A caravan of migrants fleeing Honduras has grown to 4,000 and the Mexican government has sent an additional 500 federal police to its border with Guatemala in anticipation of their arrival, according to U.S. government documents obtained by NBC News.
Part of the caravan, which has split into two groups, is now approaching the Mexico-Guatemala border amidst a surge in border crossings on the U.S.-Mexico border.
Secretary of State Mike Pompeo will travel to Mexico to meet with his counterparts on Friday, where plans to stop the caravan will be a "prominent" topic of discussion, according to a senior State Department official who spoke to reporters on Wednesday.
"I am certain that there will be conversations in Mexico about how we can work together on this issue," the official said about the caravan. "We are certainly looking for concrete results and for solutions that work for both countries."
President Trump didn't even wait until the caravan of Hondurans reached Mexico before issuing a very stern warning to the Honduran president on Tuesday threatening to cut U.S. aid immediately!
The United States has strongly informed the President of Honduras that if the large Caravan of people heading to the U.S. is not stopped and brought back to Honduras, no more money or aid will be given to Honduras, effective immediately!

— Donald J. Trump (@realDonaldTrump) October 16, 2018
The President's fury continued into late Tuesday evening as he fired off another pair of tweets putting Honduras, Guatemala and El Salvador on notice.
We have today informed the countries of Honduras, Guatemala and El Salvador that if they allow their citizens, or others, to journey through their borders and up to the United States, with the intention of entering our country illegally, all payments made to them will STOP (END)!

— Donald J. Trump (@realDonaldTrump) October 17, 2018
Anyone entering illegally will be arrested and detained prior to being sent back to their country, President Trump said.
Anybody entering the United States illegally will be arrested and detained, prior to being sent back to their country!

— Donald J. Trump (@realDonaldTrump) October 17, 2018
Democrats Just Announce Sick New Way They Plan To Dominate GOP In Midterms To Regain Control
Yet another perfect example if the tyrannical nature of the democrats. They can't win by the rules, so they change the rules. Dishonest, lying, cheating, thieves. All that party is.
We must vote in November. Stop the democrats!
From The Daily Wire:
When all else fails, change the system.
Leftist luminaries, who weren't able to stop the confirmation of Supreme Court Justice Brett Kavanaugh, suggested in the aftermath that Americans should consider reforming the Senate. Reminded that expanding the Senate would require a Constitutional Amendment, they've now, apparently, resorted to "reforming" the other half of the bicameral legislature, the House of Representatives.
NBC News reports that some Democratic activists are suggesting that to even out the "balance of power," the size of the House should grow as much as double its current size.
"Expanding the House of Representatives would be a vast improvement over the status quo — with the potential to impact all branches of government," activist Steve Vladick opines for NBC's "Think" platform.
"[C]hanging the size of the House of Representatives — from its current total of 435 seats to 650 seats, or one for every 500,000 constituents — would make that body far more reflective of the country at large; would dramatically affect presidential elections; and, perhaps alone among all of these proposed reforms, would most be in keeping with the wishes of the Constitution's drafters," he continues.
Vladick argues that "changing the size of the House of Representatives would make that body far more reflective of the country at large" by narrowing the size of Congressional districts and limiting district size based on population. In most cases, that would involve halving districts.
But it's not clear how having more districts with fewer people makes the House more representative, since House members are duly elected and, in most cases, making the districts smaller wouldn't improve a member's ability to lunch with every last one of his or her constituents.
What it does do, however, is help the Democrats remain in control of one house of Congress at all times by giving larger cities and their immediate metropolitan areas (where there are bigger populations in smaller areas) more seats. Unless large cities with high populations switch to the GOP in the near future, Democrats would hold the clear majority in the House ad infinitum.
So really, the House would become "more reflective" of … Democratic strongholds.
Tricky, tricky.
Unfortunately for Democrats, none of these proposals — expanding the Senate, packing the Supreme Court, or doubling the size of the House — are likely headed for approval.