BREAKING NOW: Trump Just Had All 130 Arrested In Just Over 24Hrs – Justice Served!
Illegal immigration is a "major problem" of some significance according to 68% of American voters. That is according to a recent Rasmussen Reports poll that shows many Americans are increasingly concerned in spite of the attempts of mainstream media propagandists attempting to convince much of America otherwise.
A mere 32% of the respondents to the telephone and online surveys stated illegal immigration is "not a serious problem," and a paltry 9% stated the issue is "not at all serious."
The Trump administration continues to crack down on the illegal alien invasion as U.S. Border Patrol agents arrest two massive groups of illegal aliens including unaccompanied minors in just over 24 hours in Texas.
Fox News reports:
"U.S. Border Patrol agents scooped up 131 illegal immigrants, including 22 unaccompanied minors, in just a little over a day in the Rio Grande Valley, officials said Tuesday.
"The arrests stem from two separate incidents in a span of just over 24 hours.
"Weslaco agents first arrested 66 illegals from El Salvador, Guatemala, and Honduras on Monday. The group comprised 20 families and 11 unaccompanied minors.
"Then on Tuesday, Weslaco agents arrested an additional 65 illegal immigrants from Guatemala and El Salvador. That group was made up of 25 families and 11 unaccompanied children.
"Officials said in a press release that all 131 illegal immigrants were being processed by the Border Patrol."
All in all a total of 45 family units and 22 unaccompanied minors were included among those illegal aliens arrested.
There are approximately 1,857,000 illegal aliens residing in the state of Texas, making it the state with the second-highest number of illegal alien invaders living within its borders, surpassed only by the state of California. The total illegal alien population for the entire United States is just north of 12 million, according to the Federation for Immigration Reform (FAIR).
Around 62% of illegal aliens are from Mexico, which translates to more than six million illegal Mexican aliens within American borders without consent or permission. The number two country is El Salvador and accounts for only about half a million or so and the numbers go down from there from places such as Guatemala, Honduras, the Philippines, Korea, Ecuador, Brazil, and China.
Just how much does that cost the American taxpaying citizenry of the United States?
According to FAIR: 
"At the federal, state, and local levels, taxpayers shell out approximately $134.9 billion to cover the costs incurred by the presence of more than 12.5 million illegal aliens, and about 4.2 million citizen children of illegal aliens. That amounts to a tax burden of approximately $8,075 per illegal alien family member and a total of $115,894,597,664. The total cost of illegal immigration to U.S. taxpayers is both staggering and crippling. In 2013, FAIR estimated the total cost to be approximately $113 billion. So, in under four years, the cost has risen nearly $3 billion. This is a disturbing and unsustainable trend. The sections below will break down and further explain these numbers at the federal, state, and local levels.
"The Federal government spends a net amount of $45.8 billion on illegal aliens and their U.S.-born children. This amount includes expenditures for public education, medical care, justice enforcement initiatives, welfare programs, and other miscellaneous costs. It also factors in the meager amount illegal aliens pay to the federal government in income, social security, Medicare and excise taxes.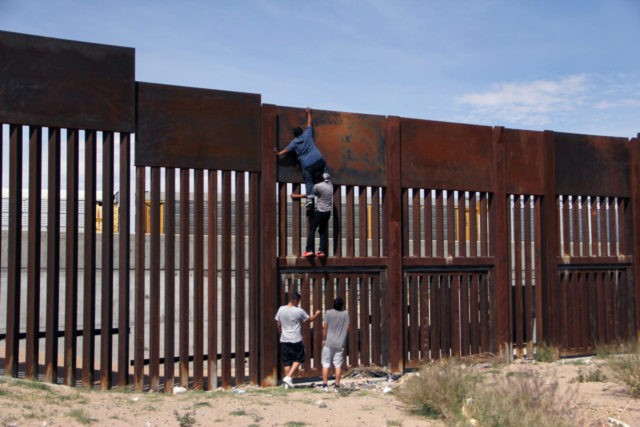 "The approximately $46 billion in federal expenditures attributable to illegal aliens is staggering. Assuming an illegal alien population of approximately 12.5 million illegal aliens and 4.2 million U.S.-born children of illegal aliens, that amounts to roughly $2,746 per illegal alien, per year. For the sake of comparison, the average American college student receives only $4,800 in federal student loans each year."
Leftists and open borders proponents alike frequently cite allegedly large tax contributions made by illegal aliens as some level of justification for their continued illegal presence within American borders, as well as a basis for offering them amnesty, similar to what was previously enacted in 1986 under the Reagan administration.
As FAIR notes, this is little more than a red herring as these "studies" use some seriously funny math. Most of them grossly overestimate both taxes actually collected from illegal aliens, as well as the amounts actually paid by illegal aliens (i.e. the money actually collected FROM illegals and actually KEPT by federal and state governments).
Since the 1990s, illegal aliens have had little to no fear of deportation for their immigration status creating an environment where not only are illegal aliens both willing and able to file tax returns, they are actually incentivized to do so. Because the vast majority of illegal aliens hold lower-income jobs, many of those that are subject to wage deductions end up receiving a complete refund of all taxes paid, PLUS net payments made on the basis of any tax credits. As a result of this practice, illegal aliens actually PROFIT off the backs of the American taxpayers by filing a tax return themselves and therefore have a strong self-interest in doing so.
By FAIR's estimation even though the costs of illegal immigration borne by taxpayers at the federal level are staggering, they only pale in comparison to the fiscal burden shouldered by taxpayers at the state level.
As a state, the taxpaying citizens of Texas were forced to shoulder the staggering total burden of $10,994,614,550 which breaks down to approximately $4,429.00.
The combined total of state and local government general expenditures on illegal aliens is $18,571,428,571 billion. Perhaps the leftists and the open borders proponents should just write a check.
President Trump Announced How He Just Got Mexico To Pay For The Wall
When President Trump said he would have Mexico pay for the wall on our southern border, he meant it. He just announced how they are going to do it too… through the USMCA (the revision of NAFTA). Which I suspect was the plan all along.
Very early this morning at about 4:38 am, Trump tweeted: "I often stated, "One way or the other, Mexico is going to pay for the Wall." This has never changed. Our new deal with Mexico (and Canada), the USMCA, is so much better than the old, very costly & anti-USA NAFTA deal, that just by the money we save, MEXICO IS PAYING FOR THE WALL!"
Do you think Facebook should be regulated so they're forced to treat everyone the same, regardless of their political beliefs, considering their size and influence in society?

— Amanda Shea (@TheAmandaShea) December 13, 2018
For those doubters on Twitter (and you will see some of them below), I highly doubt the plan was ever to have Mexico pay for the wall up front. We would fund the wall and recoup the funding from Mexico. I don't see what is so hard to understand about that. But it seems to be a financial move many can't seem to grasp and that is beyond their comprehension.
I fully support that if Congress just won't fund the wall, having the military build it through Pentagon funding and then reimbursing them for it. Why? Because it is a national security issue and always has been. That border is a clear and present danger.
Why shouldn't Trump have Mexico pay through the USMCA? And why all the negativity from people who are obviously poorly informed and just politically biased? They let their hate for the president dictate all their thoughts and actions rather than looking at the mechanics of the move and the benefits from it. I just don't get these people. They have not even given this a chance and already they are shooting it down. That's a leftist for you.
Check out the moves on Twitter over this:
I often stated, "One way or the other, Mexico is going to pay for the Wall." This has never changed. Our new deal with Mexico (and Canada), the USMCA, is so much better than the old, very costly & anti-USA NAFTA deal, that just by the money we save, MEXICO IS PAYING FOR THE WALL!

— Donald J. Trump (@realDonaldTrump) December 13, 2018
The government didn't spend or receive money from NAFTA. So unless you're going to raise taxes, there is no money coming into the government from the new deal.

— pastajoe (@pastajoe5) December 13, 2018
Good, now you can stop bothering Chuck and Nancy about getting our money for it.

— S.Danielle (@sdanielle) December 13, 2018
I am losing faith in you, sir. Why are you asking us taxpayers for 5 billion dollars if the new deal will pay for the wall? You promised that we wouldn't have to pay for it! Please keep your promise, a free border wall, or I will not vote for you again. #NoWallNoVote pic.twitter.com/eDopbpl7T1

— Ridgely Gibbs (@Patriots4Truth_) December 13, 2018
Also the deal still has to be ratified and approved by Congress which probably won't happen until the end of 2019 Or possibly mid 2020. So you're making promises using money you don't have and may possibly not get. What a shocker Mr. Bankruptcy

— Alan Volante (@VolanteAlan) December 13, 2018
Well wait until that money is coming in and build it then

— Caren Sykes (@misscsykes12) December 13, 2018
I've decided I'm not buying a Maga hat from you, but instead spend the money on drugs. So, now you pay for my drugs.

— Vincent Carmiggelt (@graphincent) December 13, 2018
Great so you don't need a penny from Congress or US Taxpayers then. Let us know when Mexico sends you the check for the $5 billion you want for the first payment on the wall. Until then don't bother Americans for the $.

— (((DeanObeidallah))) (@DeanObeidallah) December 13, 2018
No, this means consumers will pay for the wall.

— Carolyn McClanahan (@CarolynMcC) December 13, 2018
https://twitter.com/crimsonfaith88/status/1073207655760576514
If you buy something that normally costs $1000 on sale for $750, you didn't save $250. You spent $750.

— Cannie Ware (@CannieW) December 13, 2018
The #FakeNews media and #Dems are not smart enough to figure this out though‼️ They think everything is done with a "Magic Wand"???????????????? #BuildThatWall #FundTheWall #MAGA #KAG

— ????????❌TrumpedUp❌???????? (@TrumpedUp20) December 13, 2018
https://twitter.com/catgrinner/status/1073207093254066178
Bait and switch

— Greg Stanton (@GregStanton) December 13, 2018
Jeez… I saw that one coming.

— Honest Abe (@honestpotus16) December 13, 2018
Most of these people don't seem to get that a great deal of the funding for the wall was approved before Trump started all of this. I have never seen so many people so intent on leaving themselves open to attack. What a bunch of foolish, self-involved individuals. Just sad. Build the wall whatever it takes and do it fast before one of our many enemies gets a chance to severely cripple this nation once again.
Illegal Invader Collides With Major Karma After Leaving Church – Should've Listened!
An illegal alien was busted in North Carolina last week after leaving a church to meet for a scheduled appointment with immigration officials. Samuel Oliver-Bruno, 47, was evidently living for almost a year in the basement of a Methodist church while trying to get his deportation to Mexico delayed. ICE doesn't make arrests in churches so they waited until he left this one.
Oliver-Bruno was asked to provide his fingerprints to move his petition forward. He was promptly arrested in the USCIS office when he arrived. To be fair, this guy is a convicted criminal and is not some innocent victim here. Clergy from the church formed a human wall around the vehicle taking him to detention, singing "Amazing Grace" and chanting "Let him stay!" Several were arrested. The Hill has more on this misguided intervention:
An undocumented man was arrested in North Carolina on Friday after leaving a church to meet for a scheduled appointment with immigration officials, The News & Observer reported.
Samuel Oliver-Bruno, 47, was living in the basement of Durham's CityWell United Methodist Church for nearly a year while he petitioned for his deportation to Mexico to be delayed. U.S. Immigration and Customs Enforcement does not make arrests in churches.
U.S. Citizenship and Immigration Services asked Oliver-Bruno to appear in person to provide his fingerprints in order for his petition to be processed. He was then arrested inside the USCIS office, the paper reported.
"Mr. Oliver-Bruno is a convicted criminal who has received all appropriate legal process under federal law, has no outstanding appeals, and has no legal basis to remain in the U.S.," U.S. Immigration and Customs Enforcement (ICE) spokesperson Bryan Cox told The News & Observer in a statement.
Faith leaders and church members who had accompanied Oliver-Bruno formed a human wall around the vehicle taking him to detention, singing "Amazing Grace" and chanting "Let him stay!" Several were arrested, according to CNN.
"It was presented as a legitimate appointment but ICE utilized due process as bait," Cleve May, a pastor at the church, told CNN. "So we went to the appointment with him, to offer protection, knowing that ICE could not be trusted. We were thinking we would be in and out in 30 minutes."
Reps. David Price (D-N.C.) and G.K. Butterfield (D-N.C.) released a joint statement following  Oliver-Bruno's arrest, saying the man was "entrapped" and vowing to fight his arrest.
"Samuel's sudden and inappropriate arrest in the middle of the Thanksgiving season reflects the callous and cruel approach we've come to expect from the Trump administration. As Members of Congress representing the Durham community, we will continue to do everything in our power to keep the Oliver-Bruno family together," they said.
"In a call with us this afternoon, ICE has committed to allow Mr. Oliver-Bruno to remain in the U.S. in detention while his case is adjudicated. While this means he will not be immediately deported, we remain committed to fighting for his release."
Oliver-Bruno was arrested in El Paso, Texas, in 2014 after using a Texas birth certificate to enter the U.S., according to CNN. He lived for 11 months in sanctuary at the Durham church, where he helped with renovations, including a bedroom and shower after CityWell agreed to take him in the facility.
Oliver-Bruno said he feared he will be deported, leaving behind his son and wife, who has lupus and depends on her husband financially, the News & Observer reported.