BREAKING NOW: Trump Just Had All 130 Arrested In Just Over 24Hrs – Justice Served!
Illegal immigration is a "major problem" of some significance according to 68% of American voters. That is according to a recent Rasmussen Reports poll that shows many Americans are increasingly concerned in spite of the attempts of mainstream media propagandists attempting to convince much of America otherwise.
A mere 32% of the respondents to the telephone and online surveys stated illegal immigration is "not a serious problem," and a paltry 9% stated the issue is "not at all serious."
The Trump administration continues to crack down on the illegal alien invasion as U.S. Border Patrol agents arrest two massive groups of illegal aliens including unaccompanied minors in just over 24 hours in Texas.
Fox News reports:
Trending: Corvette Driver Rolls Window Down & Flips Guy The Bird – Will Never Do That Again!
"U.S. Border Patrol agents scooped up 131 illegal immigrants, including 22 unaccompanied minors, in just a little over a day in the Rio Grande Valley, officials said Tuesday.
"The arrests stem from two separate incidents in a span of just over 24 hours.
"Weslaco agents first arrested 66 illegals from El Salvador, Guatemala, and Honduras on Monday. The group comprised 20 families and 11 unaccompanied minors.
"Then on Tuesday, Weslaco agents arrested an additional 65 illegal immigrants from Guatemala and El Salvador. That group was made up of 25 families and 11 unaccompanied children.
"Officials said in a press release that all 131 illegal immigrants were being processed by the Border Patrol."
All in all a total of 45 family units and 22 unaccompanied minors were included among those illegal aliens arrested.
There are approximately 1,857,000 illegal aliens residing in the state of Texas, making it the state with the second-highest number of illegal alien invaders living within its borders, surpassed only by the state of California. The total illegal alien population for the entire United States is just north of 12 million, according to the Federation for Immigration Reform (FAIR).
Around 62% of illegal aliens are from Mexico, which translates to more than six million illegal Mexican aliens within American borders without consent or permission. The number two country is El Salvador and accounts for only about half a million or so and the numbers go down from there from places such as Guatemala, Honduras, the Philippines, Korea, Ecuador, Brazil, and China.
Just how much does that cost the American taxpaying citizenry of the United States?
According to FAIR: 
"At the federal, state, and local levels, taxpayers shell out approximately $134.9 billion to cover the costs incurred by the presence of more than 12.5 million illegal aliens, and about 4.2 million citizen children of illegal aliens. That amounts to a tax burden of approximately $8,075 per illegal alien family member and a total of $115,894,597,664. The total cost of illegal immigration to U.S. taxpayers is both staggering and crippling. In 2013, FAIR estimated the total cost to be approximately $113 billion. So, in under four years, the cost has risen nearly $3 billion. This is a disturbing and unsustainable trend. The sections below will break down and further explain these numbers at the federal, state, and local levels.
"The Federal government spends a net amount of $45.8 billion on illegal aliens and their U.S.-born children. This amount includes expenditures for public education, medical care, justice enforcement initiatives, welfare programs, and other miscellaneous costs. It also factors in the meager amount illegal aliens pay to the federal government in income, social security, Medicare and excise taxes.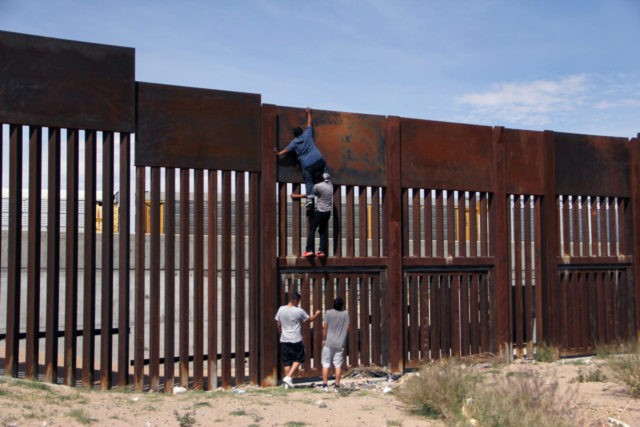 "The approximately $46 billion in federal expenditures attributable to illegal aliens is staggering. Assuming an illegal alien population of approximately 12.5 million illegal aliens and 4.2 million U.S.-born children of illegal aliens, that amounts to roughly $2,746 per illegal alien, per year. For the sake of comparison, the average American college student receives only $4,800 in federal student loans each year."
Leftists and open borders proponents alike frequently cite allegedly large tax contributions made by illegal aliens as some level of justification for their continued illegal presence within American borders, as well as a basis for offering them amnesty, similar to what was previously enacted in 1986 under the Reagan administration.
As FAIR notes, this is little more than a red herring as these "studies" use some seriously funny math. Most of them grossly overestimate both taxes actually collected from illegal aliens, as well as the amounts actually paid by illegal aliens (i.e. the money actually collected FROM illegals and actually KEPT by federal and state governments).
Since the 1990s, illegal aliens have had little to no fear of deportation for their immigration status creating an environment where not only are illegal aliens both willing and able to file tax returns, they are actually incentivized to do so. Because the vast majority of illegal aliens hold lower-income jobs, many of those that are subject to wage deductions end up receiving a complete refund of all taxes paid, PLUS net payments made on the basis of any tax credits. As a result of this practice, illegal aliens actually PROFIT off the backs of the American taxpayers by filing a tax return themselves and therefore have a strong self-interest in doing so.
By FAIR's estimation even though the costs of illegal immigration borne by taxpayers at the federal level are staggering, they only pale in comparison to the fiscal burden shouldered by taxpayers at the state level.
As a state, the taxpaying citizens of Texas were forced to shoulder the staggering total burden of $10,994,614,550 which breaks down to approximately $4,429.00.
The combined total of state and local government general expenditures on illegal aliens is $18,571,428,571 billion. Perhaps the leftists and the open borders proponents should just write a check.
Hurricane Looters Stealing $100K In Diamonds And Gold Blindsided With Insane Dose Of Karma
Forget Hurricane Florence, what we really need to be concerned about is the damage the looters cause after the storm passes. While people are desperately trying to pick up the pieces.
As the devastating storm was passing, during the height of the terrifying winds and rain, someone actually broke in and smashed through cases and stole more than $100,000 worth of jewelry at Snowden's Jewelers in North Carolina.
The store owner, Chris Snowden, confirmed the looters took bridal sets, they took gold chains, and they took some watches. He then added that his store probably took a loss in excess of $100,000, plus what the actual storm damage caused.
"They busted up my cases, they busted up my front door, I walked in and the storm did a whole bunch of damage from roof leaks, but on top of that, all of the glass damage that we're going have to replace. It's just devastating." Snowden said. He also said that he knew this was happening since right as the eye of the storm was passing through his store alarm went off and he got a call from the alarm company. But he couldn't get to it because of the 100 miles per hour winds and the police weren't available.
Here is more on this via Fox 8:
"Left helpless to stop the criminals taking advantage of his store in the middle of one of the worst natural disasters North Carolina has ever seen, Snowden could only wait as the tempest thrashed. What he found knocked the wind right out him.
"I showed up and my heart just sank, my front door was busted out, several of my showcases were busted and jewelry was taken from it, with everything that was going on, I just found it hard to believe that someone would take advantage of us in that type of a situation," Snowden said.
The business owner alerted pawn shops who are keeping an eye out for the jewelry that was swiped from his store, but he still can't figure out why someone would exploit an already desperate situation.
"My father and I started this business 28 years ago. We've worked day in and day out in the store every day of the week for the last 28 years," he said. "You know there's desperation going on and people are using the excuse of needing necessity, but this isn't something that someone needs for survival."
Through the prism of the shards of glass left by the thieves, Snowden is hopeful something will give and that someone will speak up.
Snowden is determined to reopen despite the thousands upon thousands of dollars that were pilfered in the middle of the storm. He says he is providing a $1,000 reward to anyone with information that leads to an arrest.
Apparently, this wasn't an isolated case according to WITN:
"Police say they arrested three looters after setting up an online undercover sting operation.
"Jacksonville police say during the height of the hurricane, officers saw a broken out front window at The Athlete's Foot on North Marine Boulevard. Because of the hurricane, police had to put their investigation on hold until they could contact the owners and find out if anything was taken.
"On Tuesday, police say the suspects were using the online app "Letgo" to sell the stolen goods to undercover officers.
"Jalen Martin, 18, Nahriek Dorsey, 23, and James Brooks, 18, were charged with felony breaking and entering, looting, larceny after breaking and entering, obtaining property by false pretenses, injury to real property, and curfew violation.
"Dozens of pairs of stolen shoes, along with dozens of clothing articles were recovered, police say, many with security devices and tags still attached.
"The three Jacksonville men were all given $70,000 secured bonds."
Seriously though, what kind of people do this? It has to be the lowest form of scum on earth. They wait for a disaster like this to go steal things from their neighbors and local businesses? This here is why we need the Second Amendment and a law should be attached to it that in cases of emergency like this anyone caught looting their fellow man's property has every right to protect their property by any means necessary. No questions asked.
If you want to act like a savage, you should be treated like one, don't you agree?
BREAKING NOW: 139 Arrested In Just TWO Hours – It's About Time!
Isn't it great to finally have a president who actually keeps the promises he made during the campaign?
The Daily Caller is reporting that Arizona Border Patrol agents are now confirming that on Sunday 193 illegal aliens were arrested in two separate instances and within two hours of each other.
A spokesperson for the agency confirmed that most of the illegals traveling as families were determined to be unaccompanied children. The first encounter of the morning had 102 illegal immigrants surrender to Border Patrol officials and 91 illegal immigrants were found an hour later in the same area.
Children as little as 1-years old were confirmed as being part of the group. And the adults of the group are said to have originally come from El Salvador and Honduras. The illegal aliens were processed for immigration violations.
Here is more on this via U.S Customs and Border Protection:
"Trend Continues as Agents Arrest 193 Aliens in Ajo Within 2 Hours
Release Date: September 19, 2018
"TUCSON, Ariz. – Ajo Station Border Patrol agents patrolling along the border several miles west of Arizona's Port of Lukeville encountered two large groups of illegal aliens Sunday, consisting of a combined 193 adults and children.
"In the first incident, 102 people surrendered to Border Patrol agents. About an hour later, agents encountered another 91 illegal aliens in the same area. Both groups were comprised of adults and children, some as young as 1, from Guatemala, Honduras and El Salvador. Agents determined most of the people were traveling as families, but 11 children were unaccompanied.
"Agents evaluated the 193 illegal aliens and determined no further medical attention was needed. After transporting everyone to the Ajo Border Patrol Station, they were processed for immigration violations.
"Transnational criminal organizations exploit the vulnerability of foreign nationals with false promises of legal status and encourage dangerous border crossings, placing lives at risk.
"The Border Patrol's mission is to protect U.S. borders between official ports of entry but agents are equally concerned with the safety of anyone they encounter. Tucson Sector Border Patrol officials continue to publicize warnings about the dangers of entering the U.S. illegally; especially during the summer months when temperatures can exceed 120 degrees."
The arrest of over 190 illegal aliens in Arizona didn't stop there. It was followed by another group of 170 unaccompanied illegal immigrant children and families who turned themselves into Texas Border Patrol agents on Tuesday.
Here is more on this via The Daily Caller:
"A group of 170 unaccompanied illegal immigrant children and families turned themselves into Border Patrol officials in Texas on Tuesday.
"The smuggled group sought the first agents they could find after midnight, U.S. Customs and Border Protection (CBP) reported Tuesday. The illegal immigrants are being processed by Border Patrol officials.
"As agents prepared the group for transport, the criminal organizations took advantage of the limited resources and simultaneously attempted to smuggle multiple other groups whom actively attempted to evade apprehension," according to CBP.
"A combined total of over 16,000 unaccompanied youth and people traveling in family units were either detained along the southwest border or were deemed inadmissible at entry ports in August, according to CBP figures released Sept. 12. Family unit apprehensions were 38 percent higher than in July.
"Smugglers and traffickers understand our broken immigration laws better than most and know that if a family unit illegally enters the U.S. they are likely to be released into the interior," Department of Homeland Security (DHS) spokesman Tyler Houlton said in a statement, The Daily Caller News Foundation previously reported. (RELATED: Illegal Immigration By Family Units Surges To Highest-Ever August Total)
"The 1997 Flores Settlement, a federal court order that laid the foundation for immigration detention, requires children accompanying families entering the U.S. illegally to be released within 20 days of apprehension, TheDCNF reported.
"CBP did not immediately respond to TheDCNF's request for comment in time for press."
The Border Patrol confirmed that nearly 27 percent of the people arrested are 16-year-old and around 37 percent are 17-year-old unaccompanied children for the fiscal year 2018 to date. 3 percent of the unaccompanied children have been at or below 3-years-old.
Those traveling in families, or what they claim are families, however, had younger children that were arrested. Over 50 percent of children at or below 7-years-old who came with their parents illegally were arrested as of April.
God Bless President Trump for having the guts to actually put a stop to this lawlessness and for protecting our nation's sovereignty which has been ignored for decades. A nation with no borders isn't a nation and we need to know who is coming here, no matter what the age.
Mexico understands this issue, and they prove it by having and strictly enforcing laws that make our laws look like they were written by Mickey Mouse. If you get caught there as an illegal alien, chances are you will be slapped with a jail sentence of two years. But somehow it's us here in America who are the "nationalists!"