Guess Who Showed Up At Pedo-Themed Party And Shared Pics Of Enjoying It There…
Photos are now surfacing online of disgraced writer and director of Guardians of the Galaxy, James Gunn. The photos depict Gunn attending a pedophilia-themed party. The photos were featured on Gunn's now-defunct website depicting himself attending a "To Catch a Predator" themed party.
"To Catch a Predator," is the title of a popular NBC investigative series that ran from 2004-2008. By using hidden cameras, the show would then catch alleged sexual predators who had purportedly arranged to have sex with children as young as the age of 12-years-old.
First reported by the Daily Caller's Ian Miles Cheong, the photos featuring the disgraced former Disney director are disturbing to say the least. In one of the photos, Gunn is dressed as a Catholic priest posing with two young women dressed to look like children – one with a pouting expression wearing pigtails, the other appears as though she is about to burst into tears as she holds a juice box to her lips and a doll in her other arm. Wearing what appears to be eye makeup, "Father" Gunn looms over them in the background.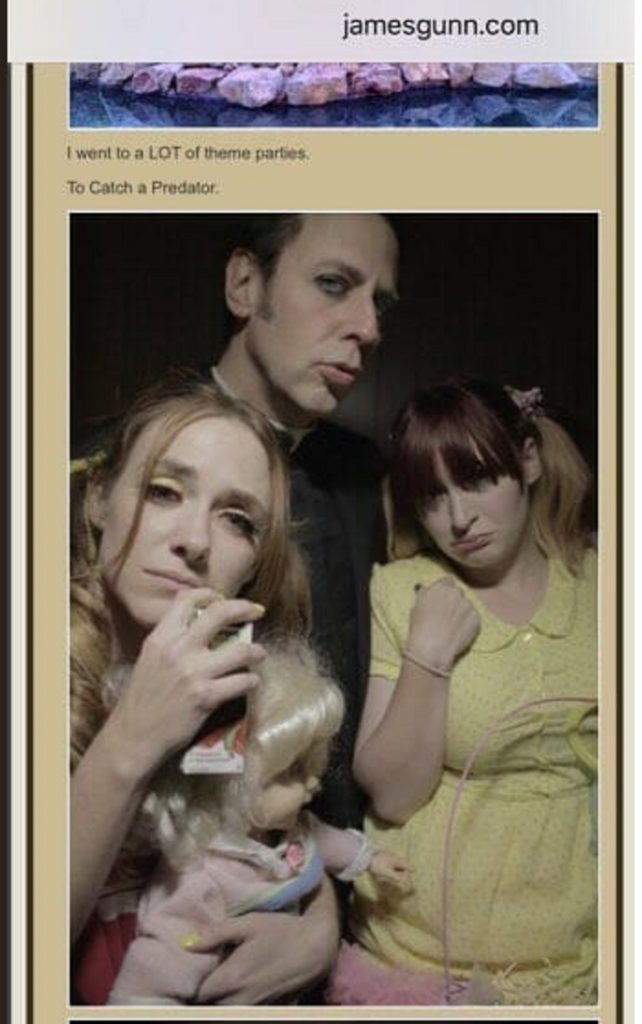 The second photo features Gunn still in his priestly attire, this time with praying hands looking upward. Kneeling on the floor in front of Gunn is another man. This man is dressed as a clown, complete with make-up. He has his hands around the throat of a second young woman dressed in a baby doll dress. Also depicted in the picture is a large rabbit and another person, believed to be a man, yet dressed in girlish clothing with pigtails and yanking on his pants.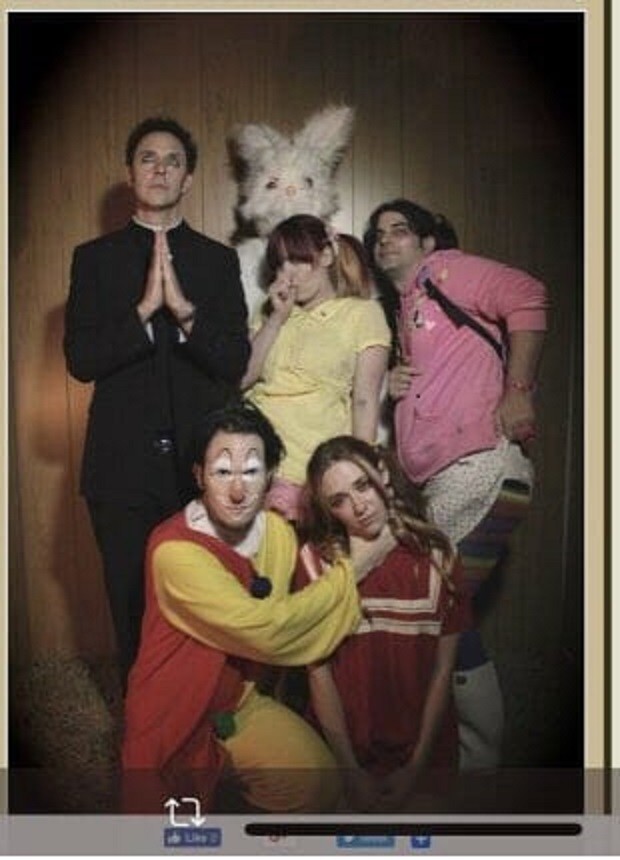 Disney fired the writer/director just days before he was scheduled to appear in a Comic-Con panel, after a plethora of old tweets and blog posts were revealed involving topics ranging from pedophilia to [email protected] Unearthed by conservative journalists Mike Cernovich and Jack Posobiec, the tweets quickly went viral along with the accompanying hashtag #fireGunn.
Known for being an opinionated Twitter personality, Gunn's feed contained more politically charged statements than Guardians of the Galaxy tidbits. Gunn was also a known rabid, Trump-hater and tweeted his loathing regularly. As a result, he often butted heads with prominent conservative personalities.
Hi @Disney!

Why did your employee @JamesGunn delete this tweet about a pedophile tree? pic.twitter.com/5TnoCoVmU6

— Jack Posobiec 🇺🇸 (@JackPosobiec) July 20, 2018
Gunn initially attempted to tweet his way out of the situation by essentially saying "I'm just a provocative guy!" claiming he was simply "joking." Gunn tweeted in an attempt to defend the indefensible, stating – "I wish some of these so-called defenders of liberty would start to understand what freedom of speech is AND isn't. Roseanne is allowed to say whatever she wants. It doesn't mean @ABCNetwork needs to continue funding her TV show if her words are considered abhorrent."
What pray tell could be more abhorrent than pedophilia and sexual assault?
But @JamesGunn thinks firing someone for abhorrent words is appropriate, so he should play by his own rules. pic.twitter.com/6eu74fO2tZ

— Aren't Dogs Great?🐾 (@IHeartSully) July 20, 2018
Some of his "jokes" included such topics as – a post about a monkey that "jerked off" on a child, high-school kids masturbating "in front of the others to show how fun it is," his alleged experience of doing a "reading with a convicted pedophile," and how he wants to make a "Hollywood film adaptation of The Giving Tree with a happy ending – the tree grows back and gives the kid a blowjob."
Even more disturbing, was a video also found on Gunn's website he titled, "Video: 100 Pubescent Girls Touch Themselves," which featured a chorus of what appeared to be high school-aged girls singing the pop tune "I Touch Myself," a song about female masturbation. Gunn added his own commentary to the video stating – "Huston Huddleston posted this video on my Facebook page with the note 'I thought you'd appreciate this,' My response: 'Appreciate it?!! I just came all over my own face!!'"
A few years after posting the video the very same Huston Huddleston was charged with soliciting a minor to appear in child pornography and pleaded guilty to possession of child pornography. He is now a registered sex offender.
https://twitter.com/Cernovich/status/1020145233252659200
After the offensive tweets from 2008-2012 started making the rounds, Gunn began rapidly deleting tweets in what appeared to many as panic as some 10,000 tweets disappeared from his account in rapid order. His critics calling for his ouster from Disney noted their disappearance.
James Gunn has deleted over 10,000 tweets in the last couple of hours. 🤔 pic.twitter.com/yn0qzBWdXW

— Ryan Saavedra (@RealSaavedra) July 20, 2018
Breitbart News reports –
Despite his objectively disturbing past behavior, ever since his firing, his fans, including the entire Guardians of the Galaxy cast, have been lobbying hard to convince Disney to re-hire Gunn to direct the upcoming Guardians of the Galaxy 3.
None of Gunn's defenders, though, has ever addressed Gunn's connection to Huddleston, and the left-wing entertainment media have all coordinated in an effort to pretend the connection does not exist.
As a result, late last week, trial balloons were being floated to test the public reaction if Disney reversed itself. "Rumors" about the possibility of Gunn's re-hiring were strategically leaked to the left-wing entertainment media."
One tweet is a joke.

A series of tweets is concerning.

A series of tweets, a blog and Facebook pages full of similar remarks, "jokes" in candid videos about his own child, and a themed costume party is a disturbing pattern of behavior.

— Ian Miles Cheong (@stillgray) August 11, 2018
Given the prominence of the Time's Up movement against sexual harassment and the #MeToo hashtag campaign to raise awareness of the what has been termed the "Weinstein effect." The Weinstein effect is a term used to describe the deluge of accusations beginning in October 2017 against film producer Harvey Weinstein. The allegations were described as a "tipping point" to precipitate a "national reckoning" against sexual harassment.
What the movement has done instead is expose a dearth of hypocrisy as actors such as Corey Feldman have maintained for years that pedophilia and sexual abuse are rampant throughout Hollywood and have been for years.
As the New York Post notes – "Model Zoë Brock said Weinstein chased her around a hotel room naked, begging for a massage. It was 1997, and "no one believed my story," Brock said. Angie Everhart said no one believed her when she recounted Weinstein barging into her guest room on a yacht, blocking her door and masturbating to completion. For quite some time, no one believed Rose McGowan's tweets that heavily implied Weinstein raped her."
The NYP notes – "For years, Feldman has been adamant that he and childhood friend Corey Haim were victims of molestation in Hollywood, and that predators remain. Yet he's been treated as though he's reporting alien abductions."
In a 2013 clip from "The View" Feldman tells Barbara Walters – "I'm saying . . . the people that did this to both me and Corey, that are still working, they're still out there and they're some of the richest, most powerful people in this business. And they do not want me saying what I'm saying right now."
Walters publicly scolds Feldman, dismissing his claims, stating – "You're damaging an entire industry!"
Yet it seems Hollywood is again conspicuously absent regarding Gunn's predilections for pedophilia and rape. Breitbart writer Ben Kew notes, "Is this normal in Hollywood?" regarding Gunn's highly disturbing party photos. The Daily Caller's Ian Miles Cheong notes in response –  "One tweet is a joke. A series of tweets is concerning. A series of tweets, a blog and Facebook pages full of similar remarks, "jokes" in candid videos about his own child, and a themed costume party is a disturbing pattern of behavior."
One tweet is a joke.

A series of tweets is concerning.

A series of tweets, a blog and Facebook pages full of similar remarks, "jokes" in candid videos about his own child, and a themed costume party is a disturbing pattern of behavior.

— Ian Miles Cheong (@stillgray) August 11, 2018
The Gateway Pundit also noted – "Twitter hasn't yet (as of this writing) done anything about Gunn, and that Gunn isn't even "QFD shadow-banned"from default Twitter searches, as many conservatives have found themselves subject to of late."
White House Guests KNEEL During National Anthem, Trump Makes Them Immediately Regret It
The Marine Corp band in their bright red uniforms were on the south balcony of the White House on a bright, sunny Tuesday in Washington, DC. The Army Chorus sang, beginning the event with 'America the Beautiful' and concluded with 'God Bless America'. At least two people who were guests at President Trump's Celebration of America event yesterday knelt, showing exactly why so many Americans are ticked over the National Anthem controversy.
The event replaced a celebration at the White House in honor of the Super Bowl win for the Philadelphia Eagles. These two disrespectful idiots took a knee as the "Star Spangled Banner" rang out across the South Lawn of the White House. Simply disgraceful. These aren't social justice warriors… these are unpatriotic jerks.
A video was posted to Twitter by a reporter for SVT, the Swedish national public TV broadcaster. It shows a man, wearing a light blue button down, kneeling as the National Anthem played, before clapping and ultimately coming to his feet after the song finished. I guess he thought that was his five minutes of fame or something.
Should President Trump shut the border down now with no more warnings about it or delay?

— Amanda Shea (@TheAmandaShea) November 26, 2018
What it really amounted to was making a fool out of himself internationally. President Trump showcases all of these liberal dimwits for what they are… America-hating, radical leftists who are far more interested in hating our brave police officers and our country than they are in respecting America and taking national pride in their country and President.
When President Trump took the podium, he blew his audience away with his love for our country, military, police, flag and the National Anthem. He made every single person who disrespects them like this look like the small, craven liberals that they really are. The man, who did not identify himself, left the event immediately after the United States Marine Band performed the anthem, according to a news anchor for TV2 Denmark. Gee, crawling away with his tail between his legs like the lowly cur he his. Guess he couldn't stand patriotism after he showed how much he hates his own country.
A man takes a knee during Trump's celebration. pic.twitter.com/zghJSk2YOu

— Carina Bergfeldt (@carinabergfeldt) June 5, 2018
There was a second man who was pictured kneeling as well. That was posted to Twitter by a CNN White House producer. He was wearing a light blue checkered shirt and had a little American flag. This guy was right up front. He was also apparently the same person who reportedly heckled Trump. That guy was roundly booed by everyone around him. CNN's analyst April Ryan posted false news on Twitter yesterday claiming people were booing Trump when it was the heckler they went after. She eventually retracted what she said after her own colleagues called her out on the lie. "Stop hiding behind the armed services and the National Anthem," the guy yelled to a chorus of boos, according to the Daily Mail. "Let's hear it for the Eagles." "Go home," one person shouted at the heckler.
Do YOU think we have the best President and First Lady ever? Follow Amanda Shea on Twitter to get RIGHT daily insight!
The President didn't engage the heckler, but looked in his direction and pursed his lips. He looked like he wanted to smack him. Right there with ya.
President Trump disinvited the Philadelphia Eagles to the White House after they at first said they had more than 70 players coming to the People's House to celebrate. By this week, that number had dropped to less than ten and then to only one player. They kept trying to change the date to one where President Trump would be out of the country. I don't blame the President in the least for canceling the visit. That was totally appropriate. If you insist on being ungrateful and insulting a sitting President of the United States, then you don't deserve the honor of going to the White House period.
Trump claimed on Monday that the team disagreed "with their President because he insists that they proudly stand for the National Anthem, hand on heart, in honor of the great men and women of our military and the people of our country." Eagles players denied that accusation, pointing out that no one on the team knelt for the anthem during last season. But that has nothing to do with how each individual on the team states his beliefs and shows his disrespect for President Trump.
The man who was booed after shouting @ POTUS also took a knee during the anthem but appears to also sing the anthem while kneeling, based on pic by Olivier Douliery/ TNS. (He was behind me & I didn't turn around until I heard him shouting) pic.twitter.com/qwuqpEXrOE

— Noah Gray (@NoahGrayCNN) June 5, 2018
White House Press Secretary Sarah Huckabee Sanders accused the team of a "political stunt" just minutes before Tuesday's alternative event began, claiming the players had chosen to "abandon their fans." That's exactly what they did. "If this wasn't a political stunt by the Eagles franchise then they wouldn't have committed to attend the event and then backed out," she said in her Tuesday press briefing. "And if it wasn't a political stunt, they wouldn't have attempted to reschedule the visit while the President was overseas."
Trump was brief in his remarks and only spoke for about four minutes. He began by explaining why it's an issue of patriotism for Americans to stand for the National Anthem. "We love our flag and stand for our National Anthem," Trump said to great applause from the crowd on the South Lawn of the White House. "We stand to honor our military and to honor country and to honor the fallen heroes who never made it back home." Yes, we do… and those that don't can take a hike.
At The White House. One guy in the audience took a knee during the national anthem at President Trumps celebration of America no Eagles event. Left right after – didn't wanna talk pic.twitter.com/NLRGp26gln

— Jesper Zølck (@zolckTv2) June 5, 2018
Melania Unveils This Year's White House Christmas Decorations That Libs Are SURE To Hate
Melania Trump's first year in office was marked by immense criticism of our incredible first lady, who in the eyes of the Trump family's numerous detractors, Melania could do nothing right, or at least as well as her predecessor, Michelle Obama. This included her full Christmas decor plan, which was stunning in silver and white, and a beautiful modern take on the same tired style that Michelle un-creatively came up with.
This year's decorations will likely be no different, if not worse.
Last year, liberals claimed she decked the halls in depression and gloom, likening it to looking more like a haunted house than a holiday home. So, what will they say about this year's new look?
Congrats, @MichelleObama, for reaching the highest level of arrogance in being offended that @FLOTUS didn't ask for your advice on doing the job. Don't worry, she learned what not to do by watching you.#MAGA #Trump2020 #MelaniaTrump #MichelleObama #FLOTUS

— Amanda Shea (@TheAmandaShea) November 13, 2018
Chicks On The Right reports:
FLOTUS doesn't just slay on the fashion front. Her decorating skills are off the charts. (Yes, yes– I know she didn't do this by herself, but if you really believe she didn't have a say, you're nuuuuuuuuuuuuts.)
ANYWHO. She finally unveiled this year's White House Christmas decorations, and they're GORGEOUS.
The People's House @WhiteHouse is ready to celebrate Christmas and the holiday season! pic.twitter.com/oejKW3mC15

— Melania Trump (@FLOTUS) November 26, 2018
You have no idea how much I want to stroll through those halls of beautifully decorated trees. Oh well. I'll have to settle for the aisles of Hobby Lobby.
The @WhiteHouse is sparkling for the Christmas season! pic.twitter.com/ncNhlkZAWl

— Melania Trump (@FLOTUS) November 26, 2018
It all looks great. I'm obsessed. TY, that is all.
Should President Trump shut the border down now with no more warnings about it or delay?

— Amanda Shea (@TheAmandaShea) November 26, 2018