Guess Who Showed Up At Pedo-Themed Party And Shared Pics Of Enjoying It There…
This is sick!
Photos are now surfacing online of disgraced writer and director of Guardians of the Galaxy, James Gunn. The photos depict Gunn attending a pedophilia-themed party. The photos were featured on Gunn's now-defunct website depicting himself attending a "To Catch a Predator" themed party.
"To Catch a Predator," is the title of a popular NBC investigative series that ran from 2004-2008. By using hidden cameras, the show would then catch alleged sexual predators who had purportedly arranged to have sex with children as young as the age of 12-years-old.
First reported by the Daily Caller's Ian Miles Cheong, the photos featuring the disgraced former Disney director are disturbing to say the least. In one of the photos, Gunn is dressed as a Catholic priest posing with two young women dressed to look like children – one with a pouting expression wearing pigtails, the other appears as though she is about to burst into tears as she holds a juice box to her lips and a doll in her other arm. Wearing what appears to be eye makeup, "Father" Gunn looms over them in the background.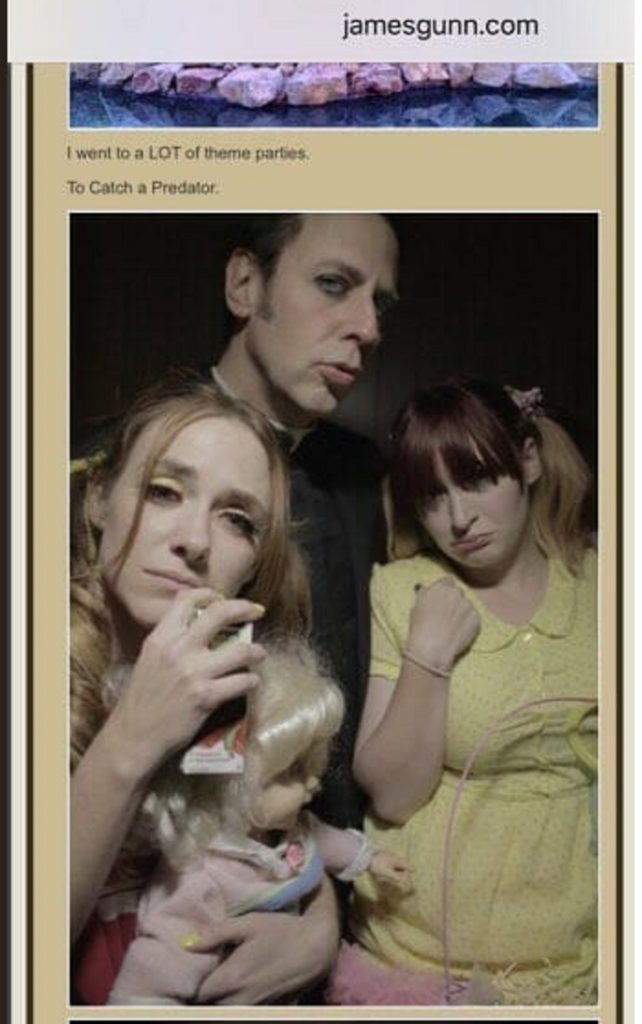 Trending: Sarah Sanders Laughs In Hateful CNN Host's Face After Catching Him In Huge Lie During Live Interview
The second photo features Gunn still in his priestly attire, this time with praying hands looking upward. Kneeling on the floor in front of Gunn is another man. This man is dressed as a clown, complete with make-up. He has his hands around the throat of a second young woman dressed in a baby doll dress. Also depicted in the picture is a large rabbit and another person, believed to be a man, yet dressed in girlish clothing with pigtails and yanking on his pants.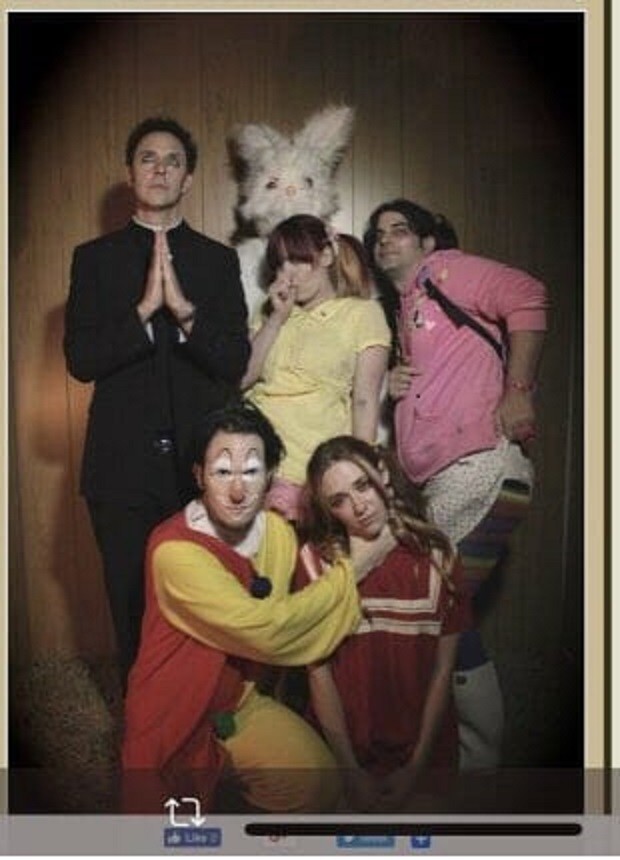 Disney fired the writer/director just days before he was scheduled to appear in a Comic-Con panel, after a plethora of old tweets and blog posts were revealed involving topics ranging from pedophilia to [email protected] Unearthed by conservative journalists Mike Cernovich and Jack Posobiec, the tweets quickly went viral along with the accompanying hashtag #fireGunn.
Known for being an opinionated Twitter personality, Gunn's feed contained more politically charged statements than Guardians of the Galaxy tidbits. Gunn was also a known rabid, Trump-hater and tweeted his loathing regularly. As a result, he often butted heads with prominent conservative personalities.
Hi @Disney!

Why did your employee @JamesGunn delete this tweet about a pedophile tree? pic.twitter.com/5TnoCoVmU6

— Jack Posobiec 🇺🇸 (@JackPosobiec) July 20, 2018
Gunn initially attempted to tweet his way out of the situation by essentially saying "I'm just a provocative guy!" claiming he was simply "joking." Gunn tweeted in an attempt to defend the indefensible, stating – "I wish some of these so-called defenders of liberty would start to understand what freedom of speech is AND isn't. Roseanne is allowed to say whatever she wants. It doesn't mean @ABCNetwork needs to continue funding her TV show if her words are considered abhorrent."
What pray tell could be more abhorrent than pedophilia and sexual assault?
But @JamesGunn thinks firing someone for abhorrent words is appropriate, so he should play by his own rules. pic.twitter.com/6eu74fO2tZ

— Aren't Dogs Great?🐾 (@IHeartSully) July 20, 2018
Some of his "jokes" included such topics as – a post about a monkey that "jerked off" on a child, high-school kids masturbating "in front of the others to show how fun it is," his alleged experience of doing a "reading with a convicted pedophile," and how he wants to make a "Hollywood film adaptation of The Giving Tree with a happy ending – the tree grows back and gives the kid a blowjob."
Even more disturbing, was a video also found on Gunn's website he titled, "Video: 100 Pubescent Girls Touch Themselves," which featured a chorus of what appeared to be high school-aged girls singing the pop tune "I Touch Myself," a song about female masturbation. Gunn added his own commentary to the video stating – "Huston Huddleston posted this video on my Facebook page with the note 'I thought you'd appreciate this,' My response: 'Appreciate it?!! I just came all over my own face!!'"
A few years after posting the video the very same Huston Huddleston was charged with soliciting a minor to appear in child pornography and pleaded guilty to possession of child pornography. He is now a registered sex offender.
"Money jerked off on kid."

Actual blog post by @Disney director @JamesGunn https://t.co/VSPS6don2u pic.twitter.com/eZP3d6quwi

— Mike Cernovich 🇺🇸 (@Cernovich) July 20, 2018
After the offensive tweets from 2008-2012 started making the rounds, Gunn began rapidly deleting tweets in what appeared to many as panic as some 10,000 tweets disappeared from his account in rapid order. His critics calling for his ouster from Disney noted their disappearance.
James Gunn has deleted over 10,000 tweets in the last couple of hours. 🤔 pic.twitter.com/yn0qzBWdXW

— Ryan Saavedra 🇺🇸 (@RealSaavedra) July 20, 2018
Breitbart News reports –
Despite his objectively disturbing past behavior, ever since his firing, his fans, including the entire Guardians of the Galaxy cast, have been lobbying hard to convince Disney to re-hire Gunn to direct the upcoming Guardians of the Galaxy 3.
None of Gunn's defenders, though, has ever addressed Gunn's connection to Huddleston, and the left-wing entertainment media have all coordinated in an effort to pretend the connection does not exist.
As a result, late last week, trial balloons were being floated to test the public reaction if Disney reversed itself. "Rumors" about the possibility of Gunn's re-hiring were strategically leaked to the left-wing entertainment media."
One tweet is a joke.

A series of tweets is concerning.

A series of tweets, a blog and Facebook pages full of similar remarks, "jokes" in candid videos about his own child, and a themed costume party is a disturbing pattern of behavior.

— Ian Miles Cheong (@stillgray) August 11, 2018
Given the prominence of the Time's Up movement against sexual harassment and the #MeToo hashtag campaign to raise awareness of the what has been termed the "Weinstein effect." The Weinstein effect is a term used to describe the deluge of accusations beginning in October 2017 against film producer Harvey Weinstein. The allegations were described as a "tipping point" to precipitate a "national reckoning" against sexual harassment.
What the movement has done instead is expose a dearth of hypocrisy as actors such as Corey Feldman have maintained for years that pedophilia and sexual abuse are rampant throughout Hollywood and have been for years.
As the New York Post notes – "Model Zoë Brock said Weinstein chased her around a hotel room naked, begging for a massage. It was 1997, and "no one believed my story," Brock said. Angie Everhart said no one believed her when she recounted Weinstein barging into her guest room on a yacht, blocking her door and masturbating to completion. For quite some time, no one believed Rose McGowan's tweets that heavily implied Weinstein raped her."
The NYP notes – "For years, Feldman has been adamant that he and childhood friend Corey Haim were victims of molestation in Hollywood, and that predators remain. Yet he's been treated as though he's reporting alien abductions."
In a 2013 clip from "The View" Feldman tells Barbara Walters – "I'm saying . . . the people that did this to both me and Corey, that are still working, they're still out there and they're some of the richest, most powerful people in this business. And they do not want me saying what I'm saying right now."
Walters publicly scolds Feldman, dismissing his claims, stating – "You're damaging an entire industry!"
Yet it seems Hollywood is again conspicuously absent regarding Gunn's predilections for pedophilia and rape. Breitbart writer Ben Kew notes, "Is this normal in Hollywood?" regarding Gunn's highly disturbing party photos. The Daily Caller's Ian Miles Cheong notes in response –  "One tweet is a joke. A series of tweets is concerning. A series of tweets, a blog and Facebook pages full of similar remarks, "jokes" in candid videos about his own child, and a themed costume party is a disturbing pattern of behavior."
One tweet is a joke.

A series of tweets is concerning.

A series of tweets, a blog and Facebook pages full of similar remarks, "jokes" in candid videos about his own child, and a themed costume party is a disturbing pattern of behavior.

— Ian Miles Cheong (@stillgray) August 11, 2018
The Gateway Pundit also noted – "Twitter hasn't yet (as of this writing) done anything about Gunn, and that Gunn isn't even "QFD shadow-banned"from default Twitter searches, as many conservatives have found themselves subject to of late."
Adios! New Mexico Sets Example For Border States, Begins Building Border Wall
Developments out West have changed the immigration game
Immigration is a hot-button issue that has dominated media outlets for several months. While it has always been a controversial issue that is universally discussed, especially in the United States, in recent months the conversations have increased due to problems at the southern border between Mexico and the United States. While there are many people who have come out against President Trump and his administration for their Department of Homeland Security, Department of Justice, and the Department of Health and Human Services policies, new developments out West have changed the immigration game.
The Daily Caller is reporting,
"New Mexico is progressing on its 20-mile border wall construction west of Santa Teresa, replacing old posts and rail barriers as part of President Donald Trump's initiative to halt illegal immigration and drug trafficking. U.S. Customs and Border Protection (CBP) said more than 8,100 panels stretching over 11 miles were built as of Aug. 8, according to the Associated Press Friday. "It's going to be harder to get over, harder to get through, harder to get underneath," Chief Patrol Agent Aaron Hull of the El Paso sector told the Albuquerque Journal on April 9. "It's going to have a five-foot, anti-scaling plate at the top."
The barrier will be as tall as 18 feet in some areas, depending on the location. The "wall of steel" was approved in 2017 and construction of the $73.3 million project began April 9, the Journal reported. Environmentalists sued over the construction because they said the wall would block migration patterns of wildlife, the AP reported March 22. Mexican gray wolves, Aplomado falcons and kit foxes are among the wildlife creatures that inhabit the area.
"Waiving these safeguards to rush construction of President Trump's ill-conceived border wall will no doubt adversely impact the communities and wildlife along the border," senior attorney at Defenders of Wildlife Jason Rylander said in a statement, according to the AP. (RELATED: SURVEY: Arizonans Oppose Removing Border Security). El Paso Border Patrol caught more than 25,000 people crossing the border and captured over 34,000 pounds of marijuana along with 140 pounds of cocaine in fiscal year 2017, according to the Journal. The Daily Caller News Foundation reached out to Defenders of Wildlife for comment, but did not receive an immediate response in time for publication."
Throughout the 2016 presidential election then-candidate, Donald Trump repeatedly made building the border wall a key part of his campaign messaging. He has continued to maintain that messaging while in office. While the estimated cost is $8 to $12 billion, Mexican President Enrique Pena Nieto has insisted that Mexico will not be paying for it despite promises by President Trump that they would. Regardless, in the first month of the president's administration, he signed an executive order that would allow for the start of construction on extending the border wall.
The National Border Patrol Council did a study, after the border wall negotiations began, where they found that 89% of all border patrol agents were supportive of an expanded border wall for security purposes while merely 7% were opposed. As a result of negotiations and hard work, earlier this year the House of Representatives and Senate appropriated approximately $1.6 billion for the border wall, out of the $1.3 trillion omnibus spending bill. Shortly thereafter, the administration announced the beginning of the construction which included eight prototype barriers which were made out of concrete. Just two months ago in June, construction workers began working on the San Diego section of the wall.
Those on the left who are opposed to the border wall have protested immensely. Their greatest condemnations include concerns over divided land, Hidalgo County, Mexico's opposition, migrant deaths, and most of all, the environmental impact. While these have always been concerns they have increased since the president has made the border wall a key policy of his administration. Environmental concerns mainly center around the use of waivers by the Department of Homeland Security to allegedly bypass various laws such as the National Environmental Policy Act, the Migratory Bird Treaty Act, the Noise Control Act, the Clean Air Act, the Clean Water Act, the Endangered Species Act, the Federal Land Policy and Management Act, the American Indian Religious Freedom Act, and the Native American Graves Protection and Repatriation Act to name a few.
However, regardless of concerns construction on the wall has begun with the support of the President, the House of Representatives, and the Senate. New Mexico is just one of many others that have already started complying with federal law to ensure this outcome. It is expected that those in New Mexico and those representing other southern border states will begin to either comment on the process or make their stance known.
Share if you agree with building the border wall.
Share if you think President Trump and his administration is doing the right thing.
Share if you believe the border wall is a good use of taxpayer dollars.
Nathan's Hot Dogs Under Massive Attack From Unhinged Leftists After Trump Connection Revealed
Since the left can't win in the arena of ideas, they once again have to resort to threats and bullying tactics
Since the left can't win in the arena of ideas, they once again have to resort to threats and bullying tactics. This time Nathan's Hot Dogs has landed in hot water after news broke that executive chairman Howard Lorber would host a fundraiser event for President Donald Trump in the Hamptons.
So because the left just can't win on ideas hundreds of people have since a pledged not to buy Nathan's Hot Dogs after finding out that the president would appear at Lorber's Southhampton home Friday for a fundraising event for his 2020 campaign. "Keep America Great!"
Yesterday, I bought some packages of #NathansHotdogs for my son's birthday celebration this weekend @originalnathans and today after learning about their support for the racist @POTUS I took time out of day to return them. No thank you and never again. #Boycott #Nathanshotdogs pic.twitter.com/JLE9mw4En5

— Cynthia Dixon (@Cynassists) August 16, 2018
Bummer. Used to love dropping by @originalnathans for a couple of hot dogs with my daughter during our #ConeyIsland visits, but now that I know that the founder is a trump fundraiser, looks like we won't be eating Nathan's again… https://t.co/UDLMlhFyys

— Peter Shankman (@petershankman) August 15, 2018
@originalnathans I was a staunch devotee of your product and my family went to Coney Island on July 4th many times.
You have lost this customer because of your support of the worst American in history @realDonaldTrump.#BoycottNathans

— Kevin McElligott (@McElliMixer) August 15, 2018
Speaking of dogs…the owner of @originalnathans hot dog company is a big Trump supporter, friend and adviser. He is throwing him a private fundraiser in the Hamptons on Friday. No more Nathan's hot dogs! #BoycottNathans #BoycottNathansHotDogs pic.twitter.com/5kv83MjKgm

— Scott Nevins (@ScottNevins) August 15, 2018
Later this week 100percent FedUp reported that a Nathan's Hot Dogs spokesperson responded to news of the proposed boycott in an official statement that explained that the company does not officially support "any political agenda."
"We acknowledge and respect that people's political views differ," the spokesperson said in a response statement. "Our focus is solely on serving the best products to our customers across the country."
Lorber is a personal longtime friend to President Trump and served as an economic advisor during his 2016 campaign. Later he was appointed chairman of the U.S. Holocaust Memorial Museum's board of trustees.
But not all the fallout was negative for our own army of "Deplorables" came out.
#NathansHotdogs you guys have great dogs. Keep up the good work. #MAGA

— GenePD (@EugenePD) August 16, 2018
Yes, the left thinks this will actually work. They think that they can boycott when everyone knows their boycotts last 2 weeks tops and then they become outraged about something else and move along.
Here is more on what happens when the right boycotts a company via Breitbart:
"More than 1,000,000 people have signed the boycott pledge against Target, following the secretive decision by executives to open all of their stores' bathrooms and changing rooms to people of both sexes.
Late Thursday night, roughly 75 people a minute were adding their name to the petition as it clicked over 1 million, just after 10:30 pm Eastern Time.
"That's a million families who are going to spread the word about Target, so they may not get those customers back," or their money, said Tim Wildmon, president of the American Family Association, which has hosted the boycott.
Target's "management is just going to have step up here [and] say 'We're selling hammers and hats, we're not into social engineering,'" he said.
One day after Target revealed its decision to favor its few transgender customers and staff over the rest of the population. A study of the 2010 census data suggests that only about 1 in 2,400 adults change their names to match names used by the other sex.
Wildmon's association wants to affirm people's privacy in bathrooms and changing rooms, but also to block the progressives' multi-front push to stigmatize and outlaw any recognition of the average differences between women and men, and between boys and girls. The LGBT agenda "is being rammed down people's throats, and people are losing their jobs because of it, and it is becoming so that you can't think differently from these people or you're [called] a hater or a bigot," he said.
Since the decision was announced, numerous comments, articles, and videos protesting the store's one-sided decision have gone viral. Public opinion has moved and hardened in opposition to the previously bizarre notion of dual-sex bathrooms and changing rooms, and Target's brand as a family friendly store has taken a hit, as the online conversation shifted from its claim of "cheap chic" to worries of privacy, sexual predators, and the anger at the company's disregard for the reasoned judgement of its middle-class customers.
"This is how people can fight back — they're not going to shop at Target," said Wildmon.
Target, however, is not responding to customers' opposition. "We certainly respect that there are a wide variety of perspectives and opinions. As a company that firmly stands behind what it means to offer our team an inclusive place to work — and our guests an inclusive place to shop — we continue to believe that this is the right thing for Target, company spokeswoman Molly Snyder said April 25.
Amid the turmoil, the company's stock edged down from $83.98 per share on April 19 to roughly $81.33 in April 28.
That's a loss of $2.65 per share, which chops the company's stock market value by $1.5 billion, down to $48.8 billion.
The company's Twitter, however, has been very inactive. The most recent tweet was sent out April 19, even though the company has been sending out a tweet every two or three days in the first half of April."
It's really a shame that us "Deplorables" didn't boycott more businesses who supported Barack Hussein Obama, maybe if we would have the left would have figured out it's better to beat us in the arena of ideas than to try to go after a brand which has been around over a century and who employs thousands of people worldwide.