Multiple Calls To Cops On Innocent 10-Yr-Old For What She Was Doing Outside Her House
One would not think that selling homemade cookies would be a source of controversy but apparently enterprising 10-year-olds are just too much for some to handle in Cedar Falls, Iowa. Savannah Watters is a 10-year-old little girl with dreams of one day opening up a bakery and was testing out her skills by baking cookies with her mother and selling them, along with flavored water at the end of her street.
Savannah said of her budding cookie business – "It was going really well." It earned her up to $250.00 on one day.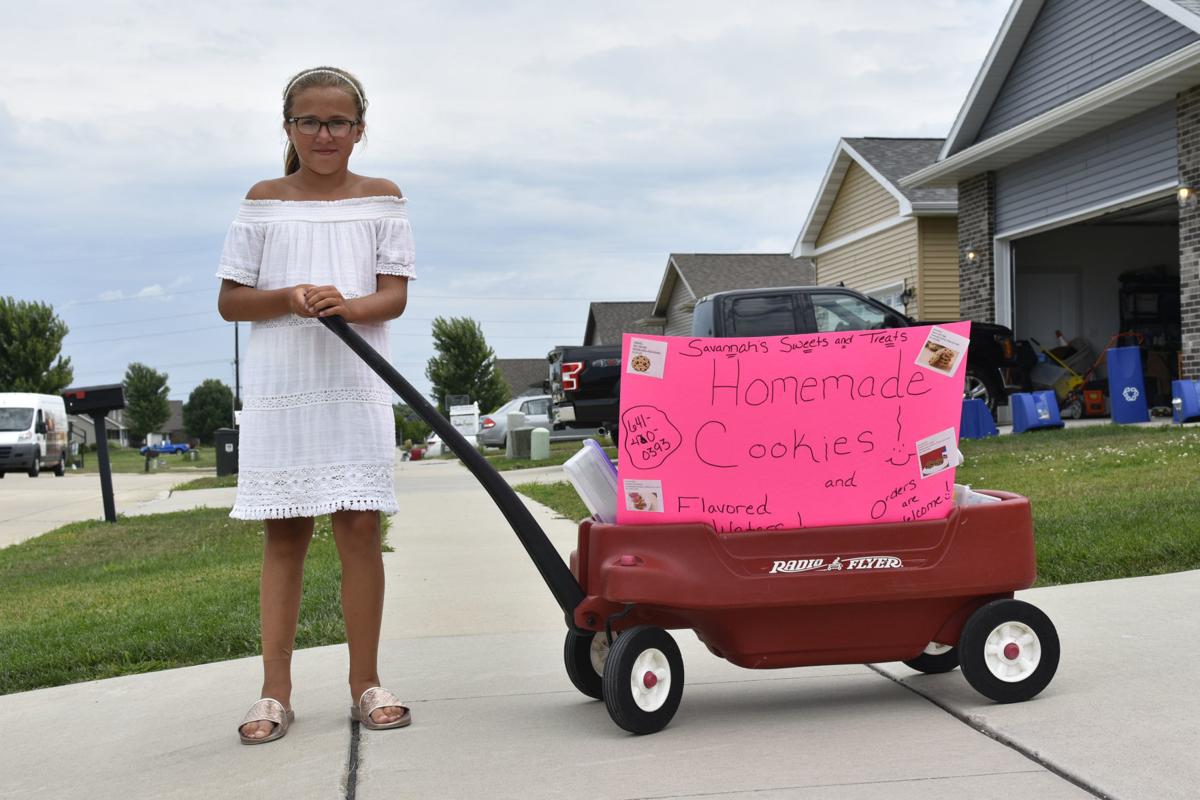 Savannah had been peddling sweets and flavored waters for approximately five weeks, working hard each day for several hours. Savannah states – "Every day for a couple hours I would bring my wagon and go down to the end of the street and sell stuff."
Kara Watters, Savannah's mother, is a former baker herself and Savannah enlisted her help to bake the cookies. Savannah was doing so well she had started making order forms and even business cards to give out to her customers.
Then neighbors began calling the local police with claims that Savannah was risking the safety of the rest of the children in the neighborhood with the amount of traffic her cookies were bringing in. One neighbor claimed she was simply "concerned" over the risk to the safety of the children in their neighborhood due to the amount of traffic her cookies brought to the area.
The Cedar Falls Police Department state they received a total of three different calls within a five day period. Savannah says business was going very well for a period of five weeks, that is until her neighbors started calling the police. Neither she nor her mother had any idea there was even an issue. Rather than speak to her mother about the situation, the neighbors simply called police to address it. The police were called three times, on July 27, 30 and 31.
"Over a period of five days, received three phone calls," Cedar Falls Police Chief Jeff Olson said. Another caller requested police officers do a welfare check on Savannah wanting to make sure the 10-year-old cookie entrepreneur was adequately supervised.
"On the third call, she was set up close enough to the 45 miles per hour speed zone street," Olson said. "That kind of concern, the officer asked her to maybe go further back from the curb or maybe go into the driveway of her home."
https://www.youtube.com/watch?v=SAK5h8iM1Xc
The Courier reports –
The first complaint noted Savannah was selling without an adult present, said Cedar Falls Public Safety Director Jeff Olson. The other reports concerned traffic.
The speed limit on Union Road is 45 mph, and the speed limit on Paddington Drive is 25 mph.
"We had her move a few feet back from the curve," Olson said.
Neighbor Melissa Winberg said she called police because the traffic coming in and out of the Paddington Drive was dangerous.
"We've had too many people coming in that we don't know," Winberg said. "My daughter was in our driveway riding her bike, and a car pulled in and almost hit her."
Winberg parked her car along her driveway to prevent people from pulling in to turn around.
"We had three semis, a dump truck and four cars parked along the road," Winberg said. "To be honest, if her mom wants to open a cookie shop, there are other ways of doing it than making her 10-year-old daughter sit on the corner for seven hours a day."
After the third call, Savannah decided to suspend her fledgling sales career, at least at her corner location. However, that simple change in location to the less visible spot a couple of blocks away from the intersection in her driveway negatively impacted her business significantly, and her feelings were hurt by the neighbors' refusal to simply speak to her mother about the situation.
Savannah states – "I wish that we could have known first, 'cause we didn't know anything. And it's just hard to believe that they didn't come talk to my mom first."
Savannah's mother Kara, who baked the cookies that her daughter sells states she is simply overwhelmed by the whole controversy, along with all the attention it has attracted her and her daughter.
Watters stated – 'No one had talked to me about anything, they just took it upon themselves and called 911. The police show up to talk to my daughter. I don't want attention and I don't. I am not a bad person and I am a good mom, and I would never risk, you know, and I didn't know anything that anyone was bothered, and so I just wish they were to come to me instead of making it all of us you know all of this."
Savannah added – "I enjoyed it a lot, so then I wanted to have a cookie shop with my mom 'cause it's always been my dream to do that. I just wish that I could've just kept staying there."
Nice way to crush the dreams of an enterprising and hardworking little girl's attempts to creatively earn money. Savannah planned to purchase new clothing for school with the money she earned from selling her homemade cookies and water. Now a bunch of busybodies can go back to complaining about how kids these days don't understand the value of hard work. One need not wonder hard to figure out why.
White House Guests KNEEL During National Anthem, Trump Makes Them Immediately Regret It
The Marine Corp band in their bright red uniforms were on the south balcony of the White House on a bright, sunny Tuesday in Washington, DC. The Army Chorus sang, beginning the event with 'America the Beautiful' and concluded with 'God Bless America'. At least two people who were guests at President Trump's Celebration of America event yesterday knelt, showing exactly why so many Americans are ticked over the National Anthem controversy.
The event replaced a celebration at the White House in honor of the Super Bowl win for the Philadelphia Eagles. These two disrespectful idiots took a knee as the "Star Spangled Banner" rang out across the South Lawn of the White House. Simply disgraceful. These aren't social justice warriors… these are unpatriotic jerks.
A video was posted to Twitter by a reporter for SVT, the Swedish national public TV broadcaster. It shows a man, wearing a light blue button down, kneeling as the National Anthem played, before clapping and ultimately coming to his feet after the song finished. I guess he thought that was his five minutes of fame or something.
Should President Trump shut the border down now with no more warnings about it or delay?

— Amanda Shea (@TheAmandaShea) November 26, 2018
What it really amounted to was making a fool out of himself internationally. President Trump showcases all of these liberal dimwits for what they are… America-hating, radical leftists who are far more interested in hating our brave police officers and our country than they are in respecting America and taking national pride in their country and President.
When President Trump took the podium, he blew his audience away with his love for our country, military, police, flag and the National Anthem. He made every single person who disrespects them like this look like the small, craven liberals that they really are. The man, who did not identify himself, left the event immediately after the United States Marine Band performed the anthem, according to a news anchor for TV2 Denmark. Gee, crawling away with his tail between his legs like the lowly cur he his. Guess he couldn't stand patriotism after he showed how much he hates his own country.
A man takes a knee during Trump's celebration. pic.twitter.com/zghJSk2YOu

— Carina Bergfeldt (@carinabergfeldt) June 5, 2018
There was a second man who was pictured kneeling as well. That was posted to Twitter by a CNN White House producer. He was wearing a light blue checkered shirt and had a little American flag. This guy was right up front. He was also apparently the same person who reportedly heckled Trump. That guy was roundly booed by everyone around him. CNN's analyst April Ryan posted false news on Twitter yesterday claiming people were booing Trump when it was the heckler they went after. She eventually retracted what she said after her own colleagues called her out on the lie. "Stop hiding behind the armed services and the National Anthem," the guy yelled to a chorus of boos, according to the Daily Mail. "Let's hear it for the Eagles." "Go home," one person shouted at the heckler.
Do YOU think we have the best President and First Lady ever? Follow Amanda Shea on Twitter to get RIGHT daily insight!
The President didn't engage the heckler, but looked in his direction and pursed his lips. He looked like he wanted to smack him. Right there with ya.
President Trump disinvited the Philadelphia Eagles to the White House after they at first said they had more than 70 players coming to the People's House to celebrate. By this week, that number had dropped to less than ten and then to only one player. They kept trying to change the date to one where President Trump would be out of the country. I don't blame the President in the least for canceling the visit. That was totally appropriate. If you insist on being ungrateful and insulting a sitting President of the United States, then you don't deserve the honor of going to the White House period.
Trump claimed on Monday that the team disagreed "with their President because he insists that they proudly stand for the National Anthem, hand on heart, in honor of the great men and women of our military and the people of our country." Eagles players denied that accusation, pointing out that no one on the team knelt for the anthem during last season. But that has nothing to do with how each individual on the team states his beliefs and shows his disrespect for President Trump.
The man who was booed after shouting @ POTUS also took a knee during the anthem but appears to also sing the anthem while kneeling, based on pic by Olivier Douliery/ TNS. (He was behind me & I didn't turn around until I heard him shouting) pic.twitter.com/qwuqpEXrOE

— Noah Gray (@NoahGrayCNN) June 5, 2018
White House Press Secretary Sarah Huckabee Sanders accused the team of a "political stunt" just minutes before Tuesday's alternative event began, claiming the players had chosen to "abandon their fans." That's exactly what they did. "If this wasn't a political stunt by the Eagles franchise then they wouldn't have committed to attend the event and then backed out," she said in her Tuesday press briefing. "And if it wasn't a political stunt, they wouldn't have attempted to reschedule the visit while the President was overseas."
Trump was brief in his remarks and only spoke for about four minutes. He began by explaining why it's an issue of patriotism for Americans to stand for the National Anthem. "We love our flag and stand for our National Anthem," Trump said to great applause from the crowd on the South Lawn of the White House. "We stand to honor our military and to honor country and to honor the fallen heroes who never made it back home." Yes, we do… and those that don't can take a hike.
At The White House. One guy in the audience took a knee during the national anthem at President Trumps celebration of America no Eagles event. Left right after – didn't wanna talk pic.twitter.com/NLRGp26gln

— Jesper Zølck (@zolckTv2) June 5, 2018
Melania Unveils This Year's White House Christmas Decorations That Libs Are SURE To Hate
Melania Trump's first year in office was marked by immense criticism of our incredible first lady, who in the eyes of the Trump family's numerous detractors, Melania could do nothing right, or at least as well as her predecessor, Michelle Obama. This included her full Christmas decor plan, which was stunning in silver and white, and a beautiful modern take on the same tired style that Michelle un-creatively came up with.
This year's decorations will likely be no different, if not worse.
Last year, liberals claimed she decked the halls in depression and gloom, likening it to looking more like a haunted house than a holiday home. So, what will they say about this year's new look?
Congrats, @MichelleObama, for reaching the highest level of arrogance in being offended that @FLOTUS didn't ask for your advice on doing the job. Don't worry, she learned what not to do by watching you.#MAGA #Trump2020 #MelaniaTrump #MichelleObama #FLOTUS

— Amanda Shea (@TheAmandaShea) November 13, 2018
Chicks On The Right reports:
FLOTUS doesn't just slay on the fashion front. Her decorating skills are off the charts. (Yes, yes– I know she didn't do this by herself, but if you really believe she didn't have a say, you're nuuuuuuuuuuuuts.)
ANYWHO. She finally unveiled this year's White House Christmas decorations, and they're GORGEOUS.
The People's House @WhiteHouse is ready to celebrate Christmas and the holiday season! pic.twitter.com/oejKW3mC15

— Melania Trump (@FLOTUS) November 26, 2018
You have no idea how much I want to stroll through those halls of beautifully decorated trees. Oh well. I'll have to settle for the aisles of Hobby Lobby.
The @WhiteHouse is sparkling for the Christmas season! pic.twitter.com/ncNhlkZAWl

— Melania Trump (@FLOTUS) November 26, 2018
It all looks great. I'm obsessed. TY, that is all.
Should President Trump shut the border down now with no more warnings about it or delay?

— Amanda Shea (@TheAmandaShea) November 26, 2018