Rosie Going Away For Good After Her Producer Was Just Charged In Chilling Murder
A producer for The Rosie O'Donnell Show has been arrested in Baltimore for the m****r of her deaf and partially blind sister. As a result, discussions of reviving Rosie's talk show have stalled.
According to the Los Angeles Police Department, Jill is believed to have drugged her sister, 49-year-old Wendy Blackstone, placed her in the garage with her three dogs and set it on fire. Investigators and police have speculated that Jill k****d her sister due to the frustration over the significant financial burden of her sister's care. She was reportedly $1 million in debt. She also had no other known ties to Baltimore other than her treatment at Johns Hopkins Hospital.
Wendy was found unconscious next to a d**d dog in an enclosed garage of a Studio City, California, home that had filled with carbon monoxide. Paramedics tried to resuscitate her, but she was pronounced d**d at the scene. Wendy died with a s*****e note in her hand, yet she was legally blind and needed hearing aids.  The Los Angeles Times reports that the note was believed to have actually been written by Jill as a result.
Wendy died in 2015 from a combination of carbon monoxide poisoning and an overdose of alprazolam, a sedative, according to an autopsy. Initially, it appeared she may have committed s*****e facilitated by Jill in some kind of a s*****e pact, but Jill backed out and left the enclosed garage. Jill herself suffered from severe carbon monoxide poisoning after the incident and spent 2 days in the hospital. However, according to the autopsy report by the Los Angeles County coroner's office, investigators began to believe that Wendy's d***h was "very suspicious" and "possibly staged" and perhaps even done to alleviate the financial burden she presented to Jill. Jill was arrested in 2015 after her sister died but she was originally released without any charges. The district attorney's office ordered an investigation into the possibility of homicide just a few days later.
#BREAKING: The LAPD says TV producer Jill Blackstone has been arrested. They say she drugged her partially deaf and blind sister, set the garage on fire, and k****d her 3 years ago. Detectives say she staged it as an accident, out of frustration of being her caregiver. pic.twitter.com/TWACCf3Bv2

Trending: JUST IN: Trump Is Opening Up Obama's Secret Record, Will Reveal What All Of America Deserves To Know

— Veronica Miracle (@ABC7Veronica) April 12, 2018
The Los Angeles Times reports –  "Near her feet were a Weber charcoal grill and a trash can with ash in it — both believed to be the source of the carbon monoxide, the report said. Nearby was a mostly empty bottle of vodka, although no alcohol was detected in the d**d woman's body.
Investigators saw several notes near the body of Wendy Blackstone with end-of-life instructions, including orders not to resuscitate, but none were signed by the d**d woman.
When paramedics arrived and opened the doors to the garage, they found one d**d dog and two others walked lethargically out, the report said. One of the two, a Doberman, later died."
As a result, in addition to m****r charges, Jill is also facing three counts of animal cruelty as well.
According to the coroner's report – Jill told investigators that a friend called her home and she "just 'came to' and did not remember what happened." She also told police that the grill was used in the garage to keep warm and the charcoal was used to roast marshmallows. These details are part of what prompted investigators to rule Wendy's d***h as "suspicious."
During the 1980s and 1990s, Jill rose to fame and is noted for her work on The Jerry Springer Show, Sally Jessy Raphael's "Sally," The Tony Danza Show, Divorce Court, as well as The Rosie O'Donnell Show.  Now Jill finds herself facing a real-life courtroom situation. There had been recent discussions about reviving Rosie's show yet again that Jill had been a part of.  It appears that has now been placed on hold permanently.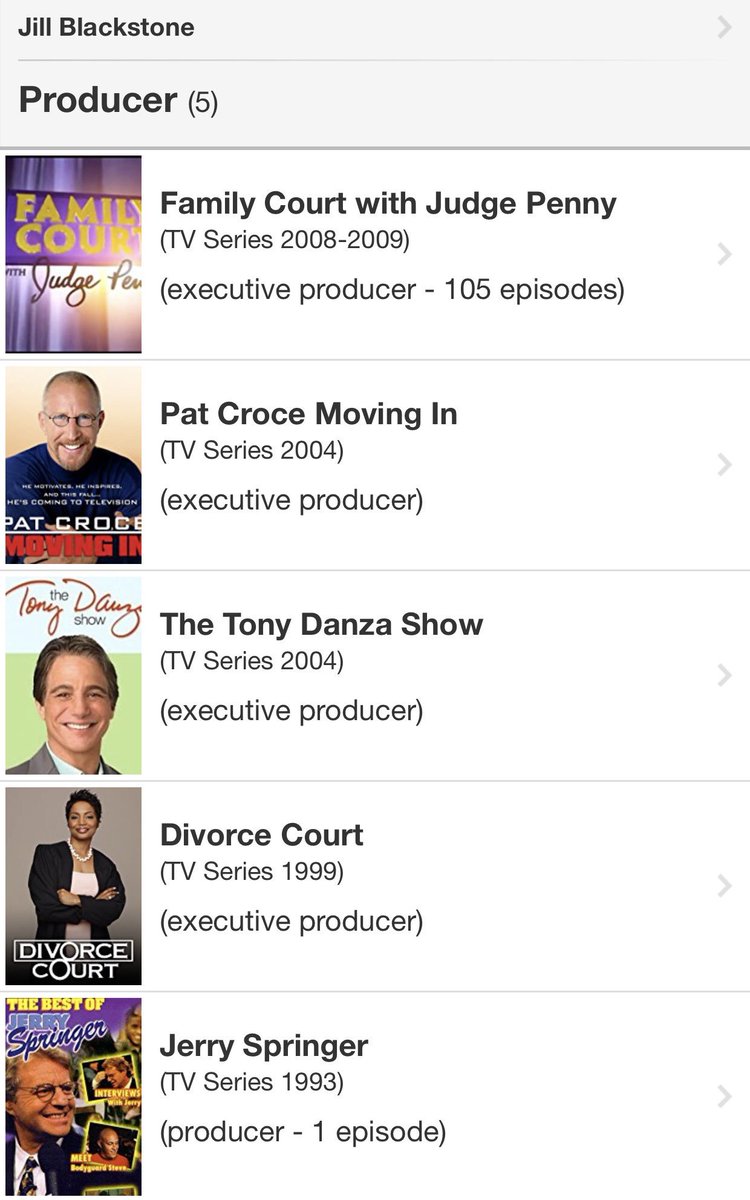 The Baltimore Sun reports – "On Tuesday, after Valley homicide detectives tracked Jill Blackstone to a relative's home in Hoboken, N.J., they learned that she had gone to Johns Hopkins University's medical center.
Jill Blackstone's attorney told detectives that she checked herself into a hospital in Baltimore due to a medical condition. She was arrested and transported to the Central Booking and Intake Facility and is waiting for extradition back to California, according to Baltimore police."
Jill Blackstone was arrested at Johns Hopkins Hospital on a warrant after a two-year investigation and is now facing extradition to Los Angelos where the m****r took place in March of 2015.  She was apparently at the hospital on an unrelated health matter. Maryland homicide detectives tracked Jill to a relative's home in Hoboken, N.J., where they learned that she had gone to Johns Hopkins University's medical center due to a medical condition.
There has been no public comment from Jill since being arrested. At the time of her initial arrest in 2015 shortly after Wendy's d***h, she denied harming her sister. The Los Angeles Police Department states the investigation was  "extremely complex and sensitive," and described the sisters as being under extreme financial hardship.