Outraged Muslim Parents Hit Hard After Enrolling Daughter At Texas Christian School
Many Christian parents are making the decision to either homeschool their children or to send their children to a private Christian school given the current state of today's American public schools. My own family has chosen to make the necessary financial sacrifice to send our children to such a school believing that if you send your children to Romans to be educated, then do not be surprised if they return to you as Romans.
The entire purpose of a Christian education is the educational and spiritual development of each individual child in the Christian faith. Given this well-known principle, then why would a Muslim family have any expectation of enrolling their child in a Christian school expecting their traditions to be upheld? Yet that is just what Muslims Pamela Moubarak and her stepfather, Imad Khalil did.
On August 18, 2018, Khalil uploaded a now-viral video to Facebook detailing their experience with Cornerstone Christian Schools, the private religious academy that Moubarak desired to attend after moving to San Antonio, Texas from Lebanon just a few short weeks ago. The father/daughter duo spoke at length about just how upset they are that Cornerstone Christian Schools chose to deny Moubarak admission to the school on the grounds that they are a Muslim family.
According to Channel 13 News –
"'We were so excited during the walk, during the tour,' Moubarak said. 'I told my mom, 'This is the school I want to go to.'
After touring the school for more than an hour, she says that her family began the application process at the office, only to find out she did not meet the school's criteria.
'When I told them I was a Muslim, they just closed the book,' Moubarak said.
She says that she informed the staff that she was willing to learn about that Christian faith and attend the required biblical classes, but it wasn't enough."
According to the rules of the Texas Private Schools Association, if a school is privately funded in its entirety, the admissions policy is clear. As long as the school treats all applicants the same, then the school's board has the right to establish their own criteria for admission, including making a determination about who can and who cannot attend based up religious belief.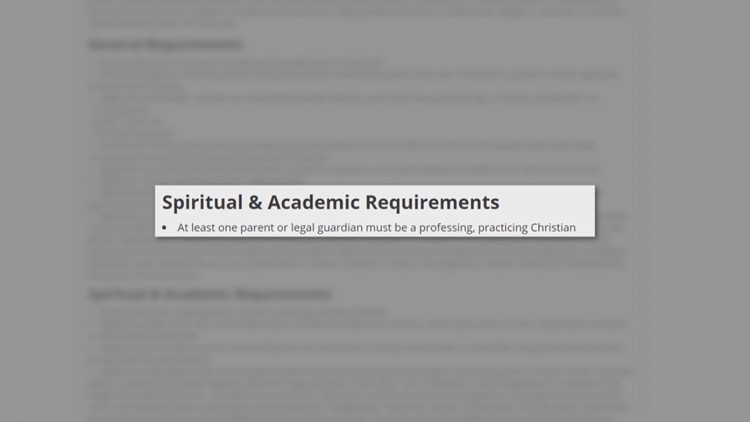 According to the policy of Cornerstone Christian Schools, at least one parent or legal guardian must be a professing and practicing Christian in order for any student to be admitted. Moubarak and Khalil stated they decided to make and post the video because they were angry and shocked that in today's day and age such a policy was in existence.
Khalil stated – "A lot of people are telling me, 'Oh well, you should research it. Well, in a million years, I would not expect them to reject my daughter because of her religion."
KENS 5 reports on the reaction from the San Antonio community following the video, stating –
"Dr. John Burke, a religion and politics professor at Trinity University, weighed in on the viral video.
"One of the ironies in this case is that oftentimes Muslims will enroll either their children in Christian (and especially Catholic) schools because they are faith-based," Dr. Burke noted.
For three days, KENS 5 reached out to Cornerstone Christian Schools and requested an on-camera interview, they declined, but did release this statement:
"CCS is a Christian school that teaches the tenets of our faith in the classroom. It is not in a child's best interest to be taught a core theology at school that contradicts the core theology taught at home. We feel such a situation could undermine the parents' efforts to pass their faith onto their child which would imperil the parent-child relationship. It is out of respect for the faith of others and the central importance of family that we choose to ensure no CCS student is put in such a position. CCS treats every individual that applies to our institution with respect and would hope our faith tradition be accorded the same."
CCS is not the only private religious school with required rules and regulations for admission. The Christian School at Castle Hills and San Antonio Christian School both require someone in the family to be Christian to enroll.
Torah Academy of San Antonio, a Jewish school, only accepts students of the Jewish faith, according to the school's webpage."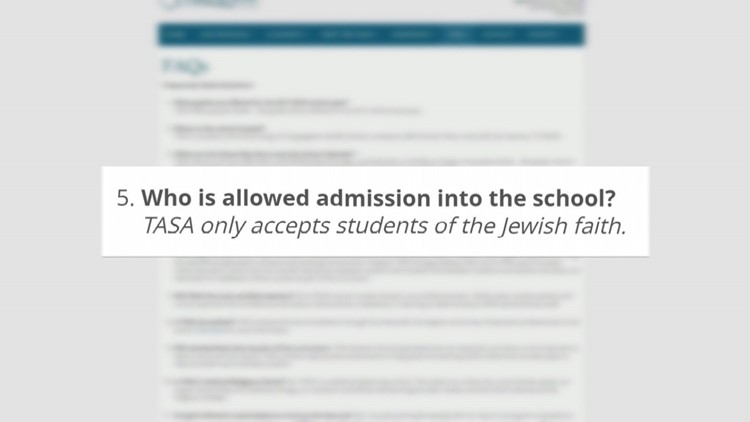 KENS 5 revealed that there are at least three schools in the San Antonio area that accept students of all religious backgrounds, including the Islamic Academy of San Antonio, St. Luke's Episcopal School, and TMI Episcopal. When asked why Moubarak did not seek admittance at one of these three schools, she replied – "[TMI] showed me the church and they showed me everything and they accepted me with my religion."
Khalil stated his belief that all private schools should accept all students from all religions and openly welcomed new worshippers. It seems that rather defeats the purpose of parents choosing to send their children to a private CHRISTIAN school?
Khalil stated – "Now she is old enough, she is 15 years old, and she can make that decision on her own. Maybe she says, 'You know what? I want to be Christian. I believe in it. That's who I want to be.'"
It has sparked much online debate with many defending positions on both sides of the argument.
Felix Partagas posted comments in response to the video stating – "Christ commands that we (everyone) minister his words so that ALL may know him."
Meanwhile, Debby McMullen took the opposite opinion and wrote on Facebook – "That doesn't make me intolerant and it doesn't mean I hate anyone. It means my children have an opportunity to fellowship with like-minded individuals every day and to make Jesus the cornerstone of their life."
Many others expressed opinions that Muslims and Christians simply worship the same God and as such Moubarak should be allowed to attend. But is that truly the case?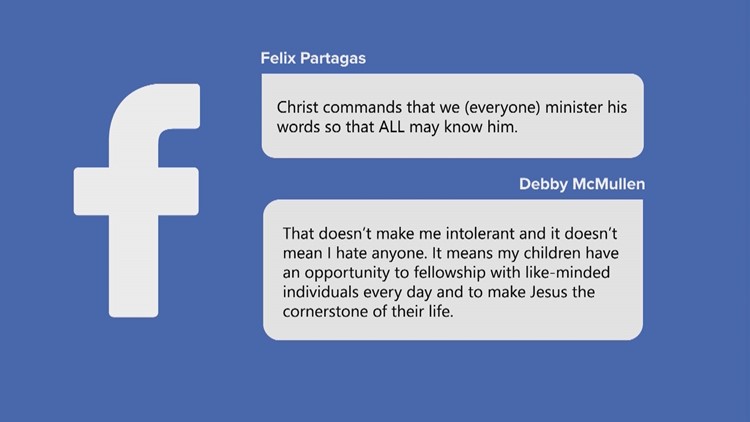 According to Nabeel Qureshi, an American Christian and convert from the Ahmadiyya sect of Islam. He was a speaker with Ravi Zacharias International Ministries (RZIM) and author of three books – Seeking Allah, Finding Jesus: A Devout Muslim Encounters Christianity,  Answering Jihad: A Better Way Forward, and No God But One—Allah or Jesus. When Qureshi was asked if given his background did he believe Muslims and Christians worship the same the same God, he had this to say –
"For years I thought it did, but I no longer do. Now I believe that the phrase "Muslims and Christians worship the same God" is only true in a fairly uncontroversial sense: There is one Creator whom Muslims and Christians both attempt to worship. Apart from this banal observation, Muslims and Christians do not worship the same God. I do not condemn those that think they do, but the deeper I delve into the Christian faith, the more I realize that this assertion is not only untrue but also subverts Christian orthodoxy in favor of Islamic assertions.
Let's start with the obvious: Christians believe Jesus is God, but the Quran is so opposed to this belief that it condemns Jesus worshipers to Hell (5.72). For Christians, Jesus is certainly God, and for Muslims Jesus is certainly not God. How can it be said that Christians and Muslims worship the same God? This fact alone is enough to settle the matter, but at the very least, no one should argue as Volf has that "there isn't any theological justification" for believing Christians and Muslims worship different Gods. There certainly is, and it is the obvious position when we consider the person of Jesus.
Another difference between the Islamic God and the Christian God that is quite personal to me is his Fatherhood. According to Jesus, God is our Father, yet the Quran very specifically denies that Allah is a father (112.1-4). In fact, in 5.18, the Quran tells Muslims to rebuke Jews and Christians for calling God their loving Father because humans are just things that God has created.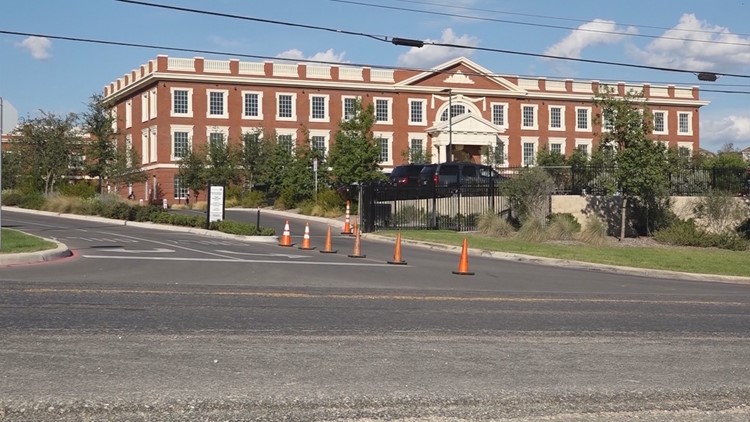 The same is the case when we consider the doctrine of the Trinity. Islam roundly condemns worship of the Trinity (5.73), establishing, in contrast, its own core principle: Tawhid, the absolute oneness of God. Tawhid specifically denies the Trinity, so much so that it is safe to say the doctrine of God in Christianity is antithetical to the doctrine of God in Islam. Not just different but completely opposed to one another.
There is much more to be said about the differences between the Christian God and the Muslim God, but this much can already be said with confidence: the Christian God, both in terms of what he is (Triune) and who he is (Father, Son, and Spirit) is not just different from the Muslim God; He is fundamentally incompatible. According to Islam, worshiping the Christian God is not just wrong; it sends you to Hell. They are not the same God."
In Historic 9-0 Decision, Supreme Court Totally Shredded Democrats – YUGE!!!!
Sometimes the Supreme Court gets it right and in a rarity, leveling a historic 9-0 decision, SCOTUS just sidestepped two major cases concerning partisan gerrymandering. This allows controversial district maps to stand and be used in this fall's midterm elections just the way they are. That's great news for Republicans and Democrats are incensed over it. They had their hearts set on redistricting voting districts… i.e. partisan gerrymandering. They will literally do anything to steal an election which includes gerrymandering, having the dead vote and recruiting illegal aliens and refugees to vote. Those are just a few of their favorite tricks.
You have to ask yourself if Dems are willing to illegally and unethically unseat a sitting president simply because he is a Republican and they don't like him, how far will they go to rig an election? As far as they can possibly get away with, sometimes with the help of government agencies. They bend the rules just as far as they can and had planned to do so in the midterms as well. Their blue wave is more of a drip and now this. Things are just not looking good for leftists in the upcoming elections.
This decision is a huge one from SCOTUS. CNN reported: "The Supreme Court on Monday sidestepped two major cases concerning partisan gerrymandering, allowing controversial district maps to stand and be used in this fall's midterm elections. The 9-0 ruling authored by Chief Justice John Roberts in a Wisconsin case is a blow to Democrats who argued the Republican-drawn maps prevented fair and effective representation by diluting voters' influence and penalizing voters based on their political beliefs."
Democrats won a challenge in a lower court, but the Supreme Court's decision on the Wisconsin case Monday would limit who can bring such cases in the future. A second case from Maryland involved the Republicans challenging a district map drawn by Democrats. The justices said that a lower court did not act improperly in leaving the map in place. In an unsigned opinion with no dissents, the justices said that the challengers failed to reach the high bar of showing "irreparable harm" that would be necessary for a preliminary injunction to block the map. "Even if we assume — contrary to the findings of the District Court — that plaintiffs were likely to succeed on the merits of their claims, the balance of equities and the public interest tilted against their request for a preliminary injunction," the court said.
The court's opinion in the Maryland case means that for now, the justices will leave having to answer whether the court can set a standard for when politicians go too far in drawing lines to benefit one party over another for another day. But it also makes it harder to bring it before the high court. This issue is sure to come before the court again, however, and it is one of the reasons it is so important that President Trump select another constitutional originalist to sit on the court when the next vacancy comes up. For instance, Kennedy was seen as the swing vote on this case. Rumor has it he will retire sometime this summer and President Trump will fill his spot. This could solidly weigh the Supreme Court in favor of conservatives for the first time in many years.
On Monday, Justice Anthony Kennedy stayed relatively silent. The last time the Supreme Court heard a major partisan gerrymandering case, in 2004, four conservative justices said the issue should be decided by the political branches, not the courts. But Kennedy was unwilling to bar all future claims of injury from partisan gerrymanders. That stance may soon be moot.
It would seem a whole raft of rulings are going against Democrats and their manipulation of voting. Judges ruled this last week that you can wear clothing with political expressions to the voting booth. That's a win for free speech, something the left abhors. Democrats are always whining about how unfair the elections are, all the while trying to corrupt the voting process itself. For instance, trying to kill off voter ID. Lately, it hasn't been working for them, which makes me smile.
This is nothing new for the left. They've been doing this for decades where they try to gerrymander districts so Democrats can win more seats even though the majority don't want them there. When Republicans decided they had had enough and decided to turn the tables and give the Dems a bit of their own medicine, liberals had a meltdown. Unfortunately for the Dems, not all judges are liberal and even the liberal justices on the Supreme Court elected to punt this one.
It appears that Americans are going to give the left an even bigger boot in 2018 than they did in 2016. Good times. The Trump wave is still building and it looks like it's going to crush the Democrats flat. In the meantime, expect the shrill whining from the left to intensify as they know their time is short and they will fight every inch of the way — including cheating when it comes to elections.
Emmys Get Demolished For Disturbing Message They Sent Many People Missed!
As the most reliable and balanced news aggregation service in the world, RWN offers the following information published by The Daily Wire:
The 2018 Emmys went about how everyone expected: Lots of left-wing messaging, lots of self-congratulation, less entertainment, and fewer viewers. But what is a little unexpected is just how strong the blowback from even those who lean left has been.
Among the strong critics of the show is the Daily Beast's Kevin Fallon, who wrote a blistering response to the "cringe-worthy, tone-deaf embarrassment" of an awards ceremony, which was particularly egregious in its "diversity" pandering.
In his brutal take on the Emmys "disaster," Fallon mocked the Chairman of the Television Academy Hayma Washington coming on stage near the end of the show to declare, "Let's give ourselves a hand!" for the theme of the night: "This, the 70th Annual Academy Awards, features the most diverse and inclusive group of nominees ever," as Fallon puts it.
Fallon notes that Washington having "to literally cajole the crowd to applaud itself, a rarity for this industry—underscored everything woefully misguided about this Colin Jost and Michael Che-hosted outing, perhaps the worst-produced award show since James Franco and Anne Hathaway co-hosted the Oscars."
The worst part, he explains, was that the show "treated its progress in nomination diversity as a finish line, expecting the telecast to function as a victory lap, cheering for a job well done when it should have fired a starting gun for the work just getting started."
The disaster of a show started off with an attempt at a joke about naively believing that the diversity problem in Hollywood had been "solved." Here's how Deadline describes the start of the Emmys 70th production, which it said "really showed its age":
Starting off with SNL's Kate McKinnon and Kenan Thompson and a dead-letter routine that diversity was thriving and discrimination was "solved" in Hollywood, the back on Monday Emmys was simply too much all Lorne all the time. Despite some dance moves from nominee Ricky Martin, the first of several inevitable references to the imploded Roseanne, more SNLers and a very brief appearance by EGOT winner John Legend, the kickoff indicated that tonight's ceremony was clearly not ready for primetime – and that was before "Weekend Update" anchors Che and Jost hit the stage.
Turns out the true joke ended up being the idea that the entertainment elites actually care about the things they spend so much time, energy, and money virtue-signaling.