Trump Enraged Liberals With This AWESOME New Picture That Went Up In White House (PICTURE)
The White House is filled with historical pieces and artifacts that represent our nation's history, but perhaps none are so controversial as what President Donald Trump just donned the walls of the West Wing. Among the painted pieces of notable figures in our nation's history, is a new framed piece of work that comes with a clear message that cannot be ignored. Now, idiots everywhere are infuriated about what our leader had the guts to put up that we're pretty sure his supporters are going to love.
The First Family is getting comfortable in their new home, just as the Obamas did in their disrespectful way that nobody seemed to have a problem with. When Trump moved in and began putting his personal touch on the People's House, all hell broke loose with accusations of tactless taste that his predecessor never got when hosting rappers and their wives. Whether people agree or disagree with what our President just put on the walls, he had the right to celebrate his victory in the way he chose to decorate.
The White House isn't just a place where the president lives, it's a monument that represents milestones in leadership throughout our nation's history. Perhaps not a single leader has been so controversial as our current Commander-in-Chief who overcame all odds to call this place home. Because of that, he has every right to document this incredible feat with a framed piece that shows exactly how that happened.
The media tried to portray that Trump's opposition, Hillary Clinton, had a huge lead in the presidential race. However, one picture proved that wrong, which has now become the West Wing's latest and perhaps most extraordinary piece of artwork.
Trending: Kavanaugh's Wife Puts Reporters Camped Outside Their Home to Shame – Did It With BIG Smile
Trump didn't become president by a mere margin — he won by a landslide of votes where it counted most. The Electoral College is the deciding vote and the now infamous image of which way each area of every state went has become its own modern art on display in the White House, and for good reason.
Trey Yingst was among the first to spot this new display and seemingly without realizing the can of controversy he was opening with this Tweeted picture of it, he simply stated, " Spotted: a map to be hung somewhere in the West Wing." The image of the Electoral College Map from the election Trump swept in 2016 accompanied his sentiment and infuriated idiots around the country who couldn't fathom why Trump would display such a thing.
It's unknown at what point these Democratic degenerates forgot who they were talking about — thinking that somehow it was out of character for Trump to gloat. When it's his right to do so by having earned it through honest means and against all odds, he should display that victory since it sends a message about what America is all about. Trump was truthful in his lead and the media was not, however, this is photo proof of that bias and that the American dream can be accomplished despite any adversary against you, and needs to be displayed for that reason..
Perhaps the most humorous part of the outrage over this imagery in the West Wing is that the same people who publicly express how tasteless and gross it is, in their opinion, were in support of a wife using the desk her husband received disgusting sexual favors at during his time in office. I think what it comes down to is that the truth hurts and no matter how much some people in America hate Trump, they can't deny that he legitimately painted the country red in approval of him.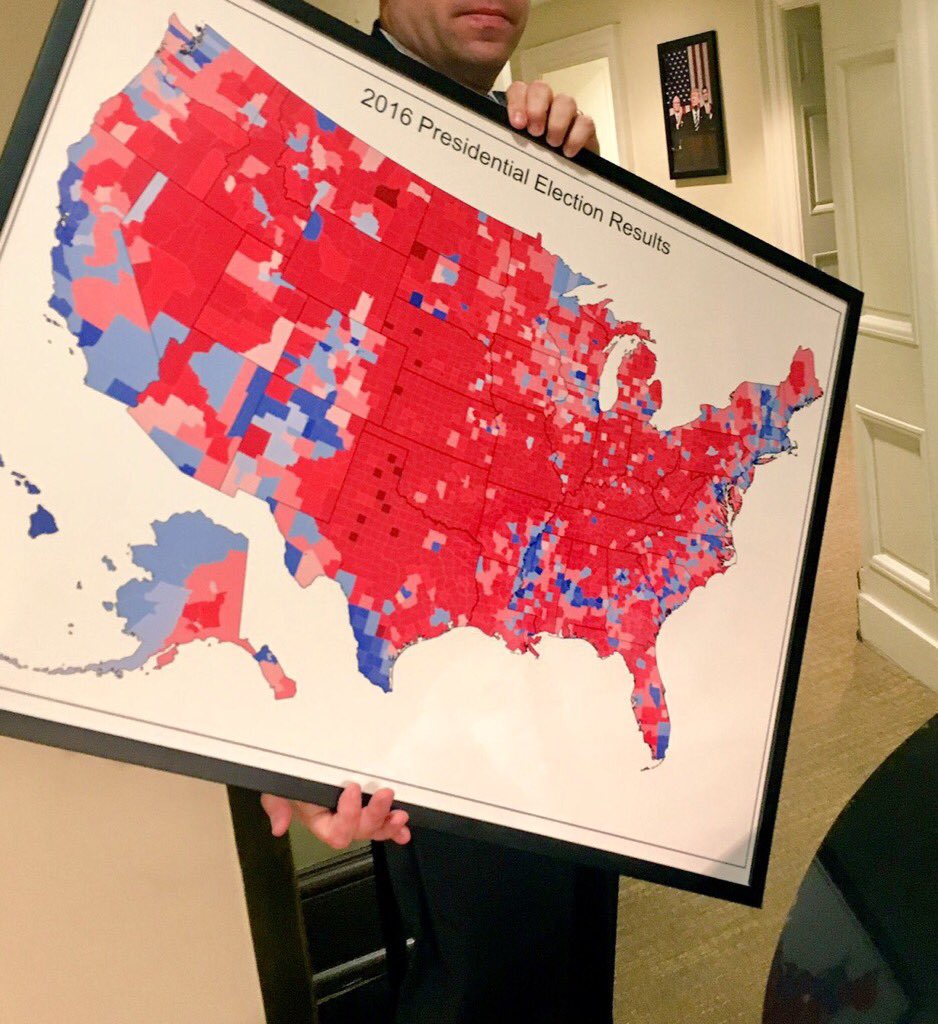 It's often said that "a picture says a thousand words" but this one speaks volumes beyond that. Trump beat supposed frontrunner Hillary Clinton by far more than a thousand Electoral College votes. This wasn't just a victory for him, but for the American people who were heard and deserve to have the piece of our country's history commemorated on the wall of the White House. Every little girl and boy in America with a dream to make a difference and become president one day can do that, just like Trump did as a non-career politician. That's significant and part of what makes America great.
After Major Upset In Texas Election, The 2018 Wave Is Confirmed
So much for the so-called "Blue Wave" in the November midterms!
So it seems like the scheme the left had of planting illegal immigrants in dark red strongholds all over America in the hopes of turning the whole nation into a far left socialist cesspool, like Cuba or Venezuela, is starting to show signs of failure.
100 Percent FedUp reported that earlier this week Democrats all over the nation, along with their complicit mainstream media and Hollywood celebrities, got what can be considered a knock out blow when Pete Flores, who is a Hispanic Republican and newcomer to the world of politics, won handily in a district that has been solidly blue for 139 years.
That's right, a Hispanic Republican took over a district that has voted Democrat for the past 139 years. Texas voters elected Flores to the Texas State Senate and in turn, flipped the district red. An event which has cemented the Republicans supermajority in the chamber ahead of the November elections.
Here is more via the Texas Tribune:
"Republican Pete Flores' upset victory in a Democratic-friendly Texas Senate district Tuesday night has spurred GOP jubilation and Democratic soul-searching with less than two months until the November elections.
"All this talk about a 'blue wave'? Well, the tide is out," Republican Lt. Gov. Dan Patrick proclaimed at Flores' election night party in San Antonio.
"Flores beat Democrat Pete Gallego, a former U.S. representative, by 6 percentage points in the special election runoff for Senate District 19, where state Sen. Carlos Uresti, D-San Antonio, resigned earlier this year after 11 felony convictions. The win made Flores the first Hispanic Republican in the Texas Senate and grew the GOP majority there to 21 members, a key addition as the caucus heads toward November looking to retain its supermajority.
"Democrats moved quickly Tuesday night to blame Gov. Greg Abbott for scheduling the special election at a time when turnout was expected to be low and would favor his party. But they were nonetheless demoralized Wednesday, trying to figure out how they let a valuable seat flip in a district where Uresti repeatedly won re-election by double digits and that Hillary Clinton carried by 12 in 2016.
"Gallego's campaign said that at the end of the day, it was not able to motivate its voters as much as Flores did.
"Our investment was in the grassroots and trying to increase the number of Democratic voters in the densest precincts where people hadn't turned out and trying to cut through the clutter of all the other campaigns going on targeting November … and it proved to be a lot more difficult to get people tuned in to the fact that an incredibly important race was happening today," Gallego strategist Christian Archer said.
"The relative enthusiasm for Flores was evident in the district's biggest Republican counties — places like Medina County, where he routed Gallego with 80 percent of the vote. Flores' margins in the red counties were more than enough to offset Gallego's advantage in vote-rich Bexar County, which gave Gallego a modest 54 percent of the vote.
"Flores' campaign said it benefited from a number of factors throughout the race, starting with the deep Democratic divide that unfolded as Gallego battled state Rep. Roland Gutierrez, D-San Antonio, ahead of the eight-way July 31 special election. Gutierrez, who won Bexar County then, never endorsed Gallego in the runoff, and on Wednesday, the two sides had different accounts of how much of an effort, if any, Gallego made to court Gutierrez.
"But Flores also had to prove himself within his own party and emerge as the consensus candidate on July 31, when two other, lesser-known Republicans were on the ballot. Flores pulled that off with just days to spare, earning late endorsements from a who's who of top Texas Republicans, starting with U.S. Sen. John Cornyn and then Patrick, U.S. Sen. Ted Cruz, and Abbott.
"We knew that if we could get in the runoff, we'd have additional help because the stakes would be clear … and the value of winning would be obvious," said Matt Mackowiak, Flores' consultant."
Flores is a retired game warden. He went on to defeat U.S. Representative Pete Gallego for the Senate District 19 seat after receiving support from some of the state's most prominent politicians. Some of which were Texas Governor Greg Abbott, Lt. Governor Dan Patrick, and both U.S. Senators John Cornyn and Ted Cruz.
According to the Texas Secretary of State's website, Flores won with a whopping 53 percent of the vote to Gallego's 47 percent with 44,487 total ballots cast. Flores and Gallego both competed in Tuesday's runoff after emerging from an eight-candidate field in first and second place in July's special election to replace former Senator Carlos Uresti.
The longtime Democrat lawmaker was forced to resign his seat in June after being convicted of 11 felony charges.
Democrats Just Set Washington Swamp On Fire With Supreme Court Confession
At the very last moment on the Brett Kavanaugh confirmation hearings for his appointment to the Supreme Court, Senator Dianne Feinstein (D-CA) produced a letter from an alleged victim who was claiming that she was sexually assaulted by Kavanaugh. Kavanaugh has ardently denied this and the whole story is just full of holes and unfounded accusations meant to stall his nomination.
Professor Christina Blasey Ford and the Democrats have caused a national outcry over their machinations here concerning an alleged incident that occurred 36 years ago while Kavanaugh and Ford were in high school. It is more than highly suspicious that this woman would show up now and with no attendant evidence or witnesses who are willing to confirm her accusation.
In fact, at least one witness is saying that this never even happened. The man identified as the witness in an alleged sexual assault by Supreme Court nominee Brett Kavanaugh in the 1980s is claiming he has "no memory" of the incident.
"I did not ask to be involved in this matter nor did anyone ask me to be involved," Mark Judge, a former high school friend, and classmate of Kavanaugh said in a statement Tuesday afternoon. "The only reason I'm involved is because Dr. Christine Blasey Ford remembers me as the other person in the room during the alleged assault."
"I have no memory of the alleged incident," Judge said in a statement. "Brett Kavanaugh and I were friends in high school but I do not recall the party described in Ford's letter. More to the point, I never saw Brett act in the manner Dr. Ford describes."
Ford can't seem to remember any specifics of the incident either. She can't recall the exact year, where it happened or even who exactly was present at the time. She also doesn't know how she got there or how she got home and she doesn't know who threw the party. Sounds less than credible to me.
It will also not surprise you that Ford is a Democrat who has marched against President Trump. She is also opposed to Kavanaugh on political grounds.
Sixty-five women who knew Judge Kavanaugh in high school are now speaking up for his character. They have written a letter supporting Kavanaugh to the Senate Judiciary Committee defending his character. The letter stated that Judge Kavanaugh has always "treated women with respect."
From the Patriot Journal:
"But many on the Left do not care about these facts and have already decided that Kavanaugh is guilty.
"They are now demanding that Kavanaugh's nomination be denied, despite the fact that in America we have a right to due process and the presumption of innocence.
"Interestingly, not all on the Left seem convinced that Ford's story is accurate, and one prominent Democrat just outright admitted that she doesn't know if Ford is telling the truth.
From colleague Connor Marley. Feinstein on Ford. Says Ford "is a woman that has been, I think, profoundly impacted, on this..I can't say that everything is truthful. I don't know."

— Chad Pergram (@ChadPergram) September 18, 2018
"There you have it. If Senator Feinstein really thought this claim of Ford's were true, she would have released Ford's letter when she received it months ago.
"Instead Feinstein sat on this information and released it at the 11th hour in a desperate attempt to stop Kavanaugh from being nominated.
"Feinstein also stated that Ford "did not want to go public" with her accusation, further casting doubt on Ford's credibility.
"For his part, Kavanaugh is stating he has never even met his accuser."
Feinstein to Fox on Ford when asked if the accusation will impact how mbrs would vote on Kavanaugh: "I know she did not want to go public. That's why I made the letter. That was taken out of my control"

— Chad Pergram (@ChadPergram) September 18, 2018
Feinstein can't have it both ways here. On the one hand, she accuses Kavanaugh of sexual misconduct, while stating that she can't vouch for everything Ford is saying as truthful. Obviously, Feinstein knows it isn't or would not be confessing her doubt here. Her statement did set the Washington swamp on fire though.
This is very reminiscent of the Clarence Thomas mess when he had to go through his hearings to become a Supreme Court Justice. Anita Hill accused Justice Thomas of sexual harassment during his confirmation hearing back in 1991. She claimed it happened years before that though… not decades like Ford is stretching for here. This is sheer desperation and obstructionism on the Democrats' part.
Thomas was painted as some kind of monster back then with lies and contradictions. But it didn't stick and Thomas is now arguably the strongest constitutional originalist on the Supreme Court.
Feinstein to Fox when asked what will happen if Ford doesn't appear Monday. "I have no say. It's all up to the Republican(s)…"

— Chad Pergram (@ChadPergram) September 18, 2018
I expect Kavanaugh will be confirmed before the midterm elections. Grassley has offered a public or private hearing to Ford. At first, she refused, then she insisted on an FBI investigation and now she is demanding more witnesses. The ones I have heard are not doing her any favors but who knows who could be dredged up and convinced into saying whatever here.
Let's hope that Ford follows Hill into disgraced obscurity. Kavanaugh does not deserve this unwarranted attack and the Democrats should be deeply ashamed over this.