Trump Enraged Liberals With This AWESOME New Picture That Went Up In White House (PICTURE)
The White House is filled with historical pieces and artifacts that represent our nation's history, but perhaps none are so controversial as what President Donald Trump just donned the walls of the West Wing. Among the painted pieces of notable figures in our nation's history, is a new framed piece of work that comes with a clear message that cannot be ignored. Now, idiots everywhere are infuriated about what our leader had the guts to put up that we're pretty sure his supporters are going to love.
The First Family is getting comfortable in their new home, just as the Obamas did in their disrespectful way that nobody seemed to have a problem with. When Trump moved in and began putting his personal touch on the People's House, all hell broke loose with accusations of tactless taste that his predecessor never got when hosting rappers and their wives. Whether people agree or disagree with what our President just put on the walls, he had the right to celebrate his victory in the way he chose to decorate.
The White House isn't just a place where the president lives, it's a monument that represents milestones in leadership throughout our nation's history. Perhaps not a single leader has been so controversial as our current Commander-in-Chief who overcame all odds to call this place home. Because of that, he has every right to document this incredible feat with a framed piece that shows exactly how that happened.
The media tried to portray that Trump's opposition, Hillary Clinton, had a huge lead in the presidential race. However, one picture proved that wrong, which has now become the West Wing's latest and perhaps most extraordinary piece of artwork.
Trump didn't become president by a mere margin — he won by a landslide of votes where it counted most. The Electoral College is the deciding vote and the now infamous image of which way each area of every state went has become its own modern art on display in the White House, and for good reason.
Trey Yingst was among the first to spot this new display and seemingly without realizing the can of controversy he was opening with this Tweeted picture of it, he simply stated, " Spotted: a map to be hung somewhere in the West Wing." The image of the Electoral College Map from the election Trump swept in 2016 accompanied his sentiment and infuriated idiots around the country who couldn't fathom why Trump would display such a thing.
It's unknown at what point these Democratic degenerates forgot who they were talking about — thinking that somehow it was out of character for Trump to gloat. When it's his right to do so by having earned it through honest means and against all odds, he should display that victory since it sends a message about what America is all about. Trump was truthful in his lead and the media was not, however, this is photo proof of that bias and that the American dream can be accomplished despite any adversary against you, and needs to be displayed for that reason..
Perhaps the most humorous part of the outrage over this imagery in the West Wing is that the same people who publicly express how tasteless and gross it is, in their opinion, were in support of a wife using the desk her husband received disgusting sexual favors at during his time in office. I think what it comes down to is that the truth hurts and no matter how much some people in America hate Trump, they can't deny that he legitimately painted the country red in approval of him.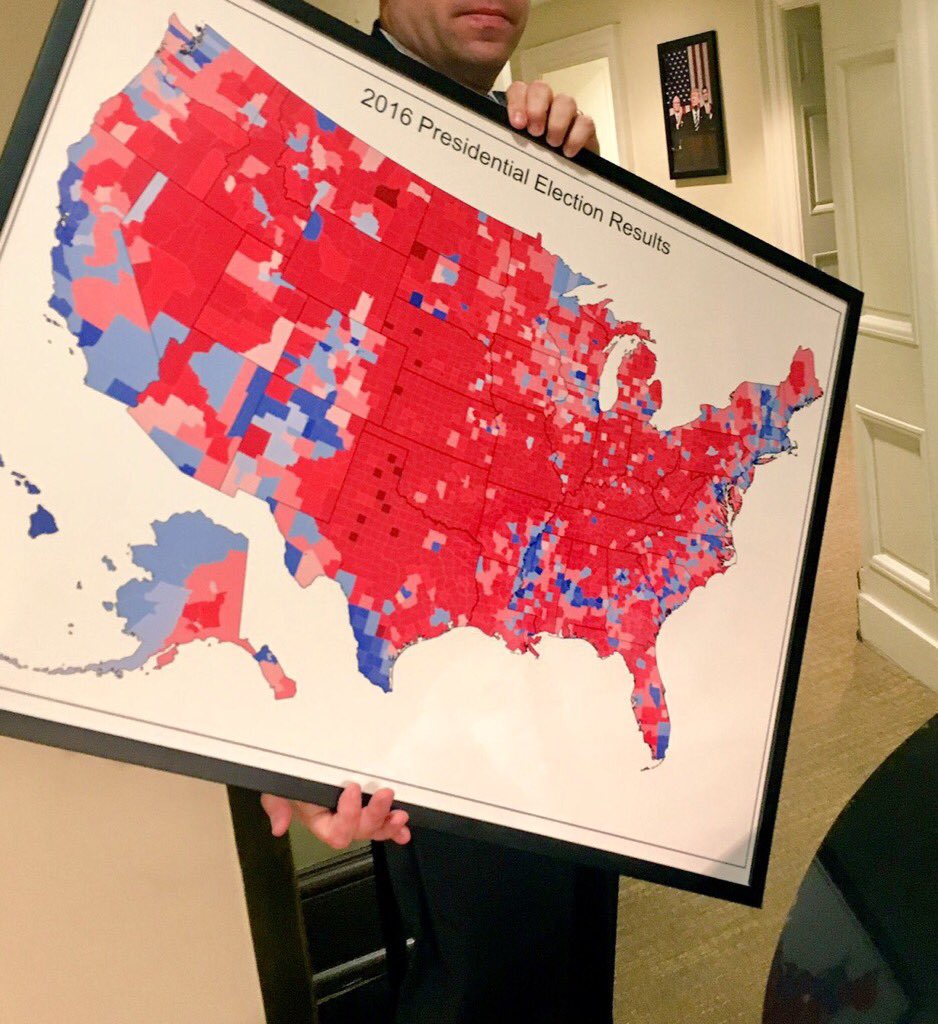 It's often said that "a picture says a thousand words" but this one speaks volumes beyond that. Trump beat supposed frontrunner Hillary Clinton by far more than a thousand Electoral College votes. This wasn't just a victory for him, but for the American people who were heard and deserve to have the piece of our country's history commemorated on the wall of the White House. Every little girl and boy in America with a dream to make a difference and become president one day can do that, just like Trump did as a non-career politician. That's significant and part of what makes America great.
President Trump Announced How He Just Got Mexico To Pay For The Wall
When President Trump said he would have Mexico pay for the wall on our southern border, he meant it. He just announced how they are going to do it too… through the USMCA (the revision of NAFTA). Which I suspect was the plan all along.
Very early this morning at about 4:38 am, Trump tweeted: "I often stated, "One way or the other, Mexico is going to pay for the Wall." This has never changed. Our new deal with Mexico (and Canada), the USMCA, is so much better than the old, very costly & anti-USA NAFTA deal, that just by the money we save, MEXICO IS PAYING FOR THE WALL!"
Do you think Facebook should be regulated so they're forced to treat everyone the same, regardless of their political beliefs, considering their size and influence in society?

— Amanda Shea (@TheAmandaShea) December 13, 2018
For those doubters on Twitter (and you will see some of them below), I highly doubt the plan was ever to have Mexico pay for the wall up front. We would fund the wall and recoup the funding from Mexico. I don't see what is so hard to understand about that. But it seems to be a financial move many can't seem to grasp and that is beyond their comprehension.
I fully support that if Congress just won't fund the wall, having the military build it through Pentagon funding and then reimbursing them for it. Why? Because it is a national security issue and always has been. That border is a clear and present danger.
Why shouldn't Trump have Mexico pay through the USMCA? And why all the negativity from people who are obviously poorly informed and just politically biased? They let their hate for the president dictate all their thoughts and actions rather than looking at the mechanics of the move and the benefits from it. I just don't get these people. They have not even given this a chance and already they are shooting it down. That's a leftist for you.
Check out the moves on Twitter over this:
I often stated, "One way or the other, Mexico is going to pay for the Wall." This has never changed. Our new deal with Mexico (and Canada), the USMCA, is so much better than the old, very costly & anti-USA NAFTA deal, that just by the money we save, MEXICO IS PAYING FOR THE WALL!

— Donald J. Trump (@realDonaldTrump) December 13, 2018
The government didn't spend or receive money from NAFTA. So unless you're going to raise taxes, there is no money coming into the government from the new deal.

— pastajoe (@pastajoe5) December 13, 2018
Good, now you can stop bothering Chuck and Nancy about getting our money for it.

— S.Danielle (@sdanielle) December 13, 2018
I am losing faith in you, sir. Why are you asking us taxpayers for 5 billion dollars if the new deal will pay for the wall? You promised that we wouldn't have to pay for it! Please keep your promise, a free border wall, or I will not vote for you again. #NoWallNoVote pic.twitter.com/eDopbpl7T1

— Ridgely Gibbs (@Patriots4Truth_) December 13, 2018
Also the deal still has to be ratified and approved by Congress which probably won't happen until the end of 2019 Or possibly mid 2020. So you're making promises using money you don't have and may possibly not get. What a shocker Mr. Bankruptcy

— Alan Volante (@VolanteAlan) December 13, 2018
Well wait until that money is coming in and build it then

— Caren Sykes (@misscsykes12) December 13, 2018
I've decided I'm not buying a Maga hat from you, but instead spend the money on drugs. So, now you pay for my drugs.

— Vincent Carmiggelt (@graphincent) December 13, 2018
Great so you don't need a penny from Congress or US Taxpayers then. Let us know when Mexico sends you the check for the $5 billion you want for the first payment on the wall. Until then don't bother Americans for the $.

— (((DeanObeidallah))) (@DeanObeidallah) December 13, 2018
No, this means consumers will pay for the wall.

— Carolyn McClanahan (@CarolynMcC) December 13, 2018
https://twitter.com/crimsonfaith88/status/1073207655760576514
If you buy something that normally costs $1000 on sale for $750, you didn't save $250. You spent $750.

— Cannie Ware (@CannieW) December 13, 2018
The #FakeNews media and #Dems are not smart enough to figure this out though‼️ They think everything is done with a "Magic Wand"???????????????? #BuildThatWall #FundTheWall #MAGA #KAG

— ????????❌TrumpedUp❌???????? (@TrumpedUp20) December 13, 2018
https://twitter.com/catgrinner/status/1073207093254066178
Bait and switch

— Greg Stanton (@GregStanton) December 13, 2018
Jeez… I saw that one coming.

— Honest Abe (@honestpotus16) December 13, 2018
Most of these people don't seem to get that a great deal of the funding for the wall was approved before Trump started all of this. I have never seen so many people so intent on leaving themselves open to attack. What a bunch of foolish, self-involved individuals. Just sad. Build the wall whatever it takes and do it fast before one of our many enemies gets a chance to severely cripple this nation once again.
Three Clinton Foundation Whistleblowers Will Testify This Coming Week, "Explosive" Allegations to Come…
"With regard to the investigation, which doesn't get a lot of attention, into the Clinton foundation, the DOJ designated John Huber to look into this. They have 6,000 pages of evidence that they've gone through. The foundation raised $2.5 billion, and they're looking into potential improprieties. What's next on this investigation?" the Fox News host questioned Congressman Meadows.
"Well, I think for the American people, they want to bring some closure, not just a few sound bites, here or there, so we're going to be having a hearing this week, not only covering over some of those 6,000 pages that you're talking about, but hearing directly from three whistleblowers that have actually spent the majority of the last two years investigating this," Meadows answered.
The Gateway Pundit reports:
Some of the allegations they make are quite explosive, Martha and as we just look at the contributions — now everybody's focused on the contributions for the Clinton Foundation and what has happened just in the last year, but if you look at it, you know, it had a very strong rise, the minute she was selected as Secretary of State — then it dipped down when she was no longer there and then rose again, when she decided to run for president. So there's all kinds of allegations of you know, pay-to-play and that kind of thing, "Meadows said.
Take a look:
In the three years following Hillary Clinton's departure from her position in the State Department, the Clinton Foundation donations dropped by 90%.
The Gateway Pundit writes, "Hillary Clinton left the State Department in 2013 and it looks like nobody wants to pay since she can no longer play."
Currently, the Clinton Foundation is being put under investigation by the Justice Department and the FBI for a whole plethora of reasons.
The Hill reports that the Clinton Foundation is also being investigated by the IRS in order to find out whether or not any "tax-exempt assets were converted for personal or political use."
Numerous Clinton emails backing up the idea that the Clinton Foundation was involved in "pay-to-play" schemes during Clinton's time serving as the head of the Department of State have been found by Conservative watchdog group Judicial Watch.