OPINION: Trump Supporters Just 'Punked' Barack Obama On His Birthday In The Perfect Way
Does Michelle love him anymore?
Michelle Obama did that cheese-ball fake news thing where she expressed her love for Barack Obama on social media for his birthday. You know, that generic "just doing it because that's what people do now and social media is stupid" thing where you feel obligated to saying "happy birthday" on someone's birthday. Of course, picking up the phone and calling them is like so far out of the question now that some people forget they even have phones.
Michelle kept it casual and corny, sounding like a dollar store birthday card, but some of the Trump supporters punked Barack with a funnier message. This was good stuff and that's what we should use social media for. Give the guy credit, he made it all the way to the White House. You cannot ever take that away from Barack Obama, but that doesn't mean he did a good job. OK, to be fair, there was probably some things he did well at, like making sure his suit always looked nice, but I think he milked the job and that's just my opinion. He lacked the great American balls it takes to turn a country around and make us the strongest country on the planet. It's a shock he's not skinny-dipping with Justin Trudeau right now and having some birthday drinks after dark.
One more photo, for the road, for #ObamaDay pic.twitter.com/Gq3IWYrad3

— Canadian Politics (@canadianpoli) August 4, 2018
Trending: Sarah Sanders Slaps Back Hard At Former First Lady – 'Your Husband Signed The Law'
Here's Michelle's message. If my wife wrote this to me, I'd divorce her. He's barely in the picture, the view sucks, and it almost felt like she hired an assistant to go "write something for my husband" kinda thing. Generic and just there to please the masses. You know what would happen if she didn't post something, the media would say she's getting a divorce and her big head would be on the front page of every website and magazine.
Happy birthday @BarackObama! The view is always better with you. pic.twitter.com/7a6cAkjkAS

— Michelle Obama (@MichelleObama) August 4, 2018
"Happy birthday @BarackObama! The view is always better with you." View of what? A remote desert where poor people can't afford to travel to? That sure looks like a boatload of white privilege! I don't have money for a trip right now, but I'm glad Michelle Obama rubs it in everyone's face that they're still taking taxpayer trips thanks to their lifetime salary.
Don't forget Al Sharpton and his birthday wishes. When one of the biggest scumbags on the planet wishes you happy birthday, then you know you messed up. This guy preys on black people getting shot when they don't follow the law and he makes money running his barely literate mouth. He claims to be a civil rights kinda guy, but he's mostly a scam artist. Prove me wrong.
Happy Birthday to my friend, brother, and the 44th President of the United States of America, President @BarackObama. pic.twitter.com/XGAV4meCHm

— Reverend Al Sharpton (@TheRevAl) August 4, 2018
Here's creepy Joe Biden giving his pal an interracial hug. They had matching sandwiches too. How cute. It's funny when a bunch of old lemons party in a little cafe. Joe 2020 sounds funny, right? It is because Trump would beat him in a physical fight (he has pro wrestling experience and it's still real to me, dammit), and then he'd crush Joe and send him packing to a factory filled with child labor, probably sewing soccer balls as Biden gives that edge of the lip smile where you know he just wants to hug everyone in the most awkward way possible.
Our lunches together were a highlight of every week at the White House. Last week's trip to @DogTagBakery was no different. Happy birthday to my brother, my friend, @BarackObama. pic.twitter.com/0faYjvnPW6

— Joe Biden (@JoeBiden) August 4, 2018
Then there's this idiot who must not realize this whole anti-illegal immigrant thing goes back many years, at least to what? 1996? Bill Clinton and his immigration strategies? This cage thing is nothing new. What do people think, that illegal immigrant kids just NOW started breaking into America? No way, they've been doing it since the day a border was created. This isn't anything new and when the kids are apprehended, then they have to be placed somewhere because there are no parents around to claim them. This is the safest place for them because otherwise, they'd be out on the streets. Also, Barack bows to dictators and apologizes to everyone. He made America look like a bunch of beta males. This dude's Tweet is a major epic fail. He has almost 400,000 followers and can't even put together a functional website, let alone acknowledge that even Democrats spoke out against illegal immigration. He's a dolt with a giant forehead filled with nothingburgers.
You had a president who locked kids in cages (not personally), sucked at twitter, apologized to dictators, a huge wimp, inspired stupid people to hate police for doing their job. White people voted for Obama and he divided more than anything. Screw #ObamaDay https://t.co/rILfGDLkUq

— Frank 🇺🇸 (@TrendingViews1) August 9, 2018
This is why it's better that someone like Jesse Kelly, a veteran of the Marine Corps, sent Obama a much better birthday wish. But it wasn't just him, a few other people sent Barack and the rest of the planet a few reminders. Let's face it – Obama wasn't really a good president. He was a very classy guy who dressed nicely and spoke eloquently, but he basically sucked as a president and ruined healthcare while pitting irritable liberals against police instead of standing up for them. His wife sucks too. She ruined school lunches. The two most important things – food and health – and they ruined it. My healthcare got screwed over by this guy, so you can see why there's a jagged little pill I'm not trying to swallow whenever people talk this guy up like he's the third black Jesus. Meanwhile, poor kids were throwing out food in public schools because Michelle's food was so bad that they would rather starve than eat that dreck.
Here are a few better birthday cards, sent digitally, of course, thanks to Twitter. I can go on all day with the ridiculous ones, but it only took two right-wing people to crush the entire birthday, or as Trump-haters called it – #ObamaDay. This is troll level 9000 and it's not even their final form. Well played, folks.
Happy birthday, Obama. I hope you have a lovely party with your family in Kenya.
Happy birthday @BarackObama. Thank you for all you did. pic.twitter.com/WUF3E7m2jd

— Jesse Kelly® (@JesseKellyDC) August 5, 2018
Since it's Obama's birthday let's review his Presidency:

Gave our enemy Iran billions of dollars

Passed Obamacare & wrecked US healthcare

Highest percentage ever on Food Stamps

Traded terrorists for a traitor

Oversaw creation of ISIS

Largest ever debt increase in US history

— Charlie Kirk (@charliekirk11) August 4, 2018
Melania Honored Military Moms With Special Dress, Outclasses Michelle By A Mile [OPINION]
American people love First Lady Melania Trump. Especially in comparison to former First Lady Michelle Obama
American people love First Lady Melania Trump. Especially in comparison to former First Lady Michelle Obama. While quiet, she is classy and dignified and they love that her initiatives focus on something she is passionate about… children. Recently she attended a ceremony to give honors to military wives and moms. What she did while there blew everyone out of the water.
The Patriot Journal reported,
"Her outfits often make international headlines for the messages they convey. She and her incredible stylist team make every effort to craft the perfect look for any occasion. In Saudi Arabia for example, the newspapers celebrated Melania's fashion choices during her trip. Even though she refused to wear a head covering, as women in Saudi Arabia are required to do, the newspapers there called her look, "classy and conservative."
Our First Lady honors those she comes in contact with, by being sensitive in the manner in which she dresses. Her clothes are often a sign of respect as well, which is even more important. For instance, her look at a recent event to celebrate military mothers and spouses showed how much she honors and respects America and those who help protect her (and others).
Melania Trump went for a classic look Wednesday when she showed up in a blue coat dress at an event celebrating military mothers and spouses. The first lady paired the double-breasted navy blue dress with a matching navy patent leather belt.  'Mother's Day, which is this Sunday, is celebrated just one time per year. I don't know about all of you, but I think mothers should be celebrated each and every day,' Trump shared with the group, thanking them for the sacrifice they make every day for our country."Her dress wasn't merely stunning, it was a respectful nod to the Dress Blues that service members of the Navy wear. The contrast between this event and events the Obama's held is striking. The former First Couple only hosted opulent parties with nothing but A-listers and shunned the common man. The Trumps on the other hand host military moms and spouses and shun the A-listers. And yet the left still can't figure out why they lost. Their condescending treatment of middle America is no different than their condescending treatment towards the First Family.
In fact, high profile liberal designers like Marc Jacobs and Tom Ford joined a list of fashion gurus who said they'd refuse to dress Melania Trump when her husband was elected. Ford reached new levels of pettiness when he stated that he didn't want to style Melania because, "I'm a Democrat, and voted for Hillary, and [am] very sad and disappointed that she's not in office." Considering some of the hideous gowns Tom Ford designed for Michelle Obama, Americans should be thankful he's staying away from Melania. In fact, the First Lady is becoming a style icon just fine without any help from the left. And her dedication to honor those who are important to this country comes through loud and clear!"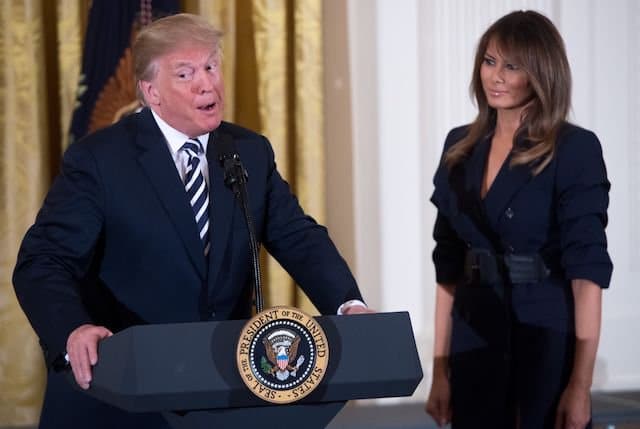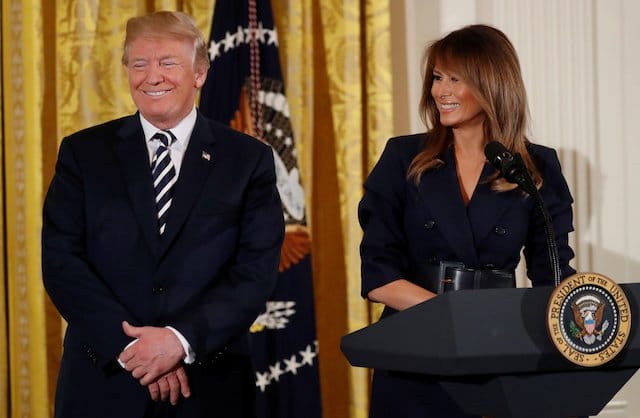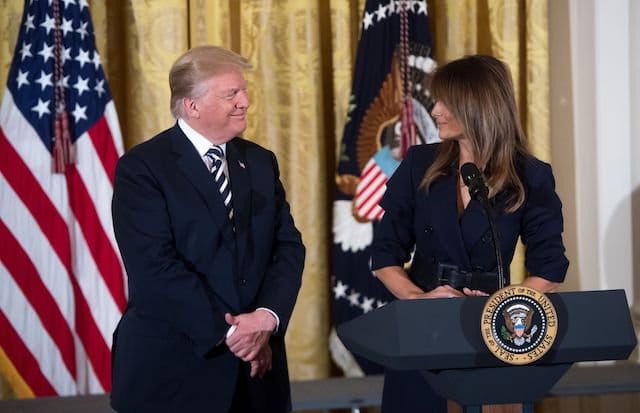 President Trump, his family, his wife the First Lady Melania Trump, and the administration have made it their mission to make military families front and center of the work that they do. While military families were often ignored in the past they certainly are not anymore. Their is a never ending amount of events that the current administration hosts to honor military families and the sacrifice they make.
During the event the President discussed the hardships that military spouses deal with as a result of long deployments. Emphasizing that they often take on more than they bargained for when their families are uprooted and shipped half way around the world. President Trump made sure they were aware of his commitment to all families that serve in the armed forces. Which is why he made sure to mention that Congress with his help implemented the biggest pay raise the military has seen in a very long time.
The U.S. Army said in a press release,
""[My] administration is totally committed to every family that serves in the United States armed forces," Trump said. "Earlier this year, I was proud to sign that big pay raise … and I am proud of it."  Noting that the White House is taking action to expand employment opportunities for military spouses, the president said service members' spouses would be given "treatment like never before," noting that the unemployment rate among military spouses is more than 90 percent.
But that is going to change, he added. "[For] a long time, military spouses have already shown the utmost devotion to our nation, and we want to show you our devotion in return," the president said. "America owes a debt of gratitude to our military spouses — we can never repay you for all that you do." Following his remarks, Trump signed an executive order addressing military spouse unemployment by providing greater opportunities for military spouses to be considered for federal competitive service positions.
The order holds agencies accountable for increasing their use of the noncompetitive hiring authority for military spouses, and American businesses across the country are also encouraged to expand job opportunities for military spouses, the president said."
Share if you believe that President Trump loves the American people
Share if you believe the President Trump and the First Lady are doing right by military families
Share if you agree First Lady Melania Trump did an amazing job at the event
Share if you love Melania Trump more than former First Lady Michelle Obama
New Mexico Judge Who Let 5 Extremists Go Just Became A Victim Of Terrorism [Opinion]
This judge just found out how it feels to become a victim herself!
One of the biggest stories out there this week, or at least it should be, is the compound in New Mexico where 11 children were taken into custody and their parents arrested on numerous charges. The family is Muslim and it is being alleged that the children were radicalized and were being trained to shoot up a school. All of this is passing in the wind of news out there. It definitely does not look like they were up to anything good and the children were malnourished and in need of care.
I have also heard that it is alleged that a child died on the premises and was buried there. 3-year-old Abdul-Ghani Wahhaj, who had been missing since December, allegedly died amid a ritualistic religious ceremony held on the grounds in an effort to "cast out demonic spirits," Reuters reported. Public defenders argued the boy's father was trying to heal the child by reading passages from the Koran but prosecutors claimed he was denying the boy medication. One of the children taken into custody claimed that the boy had died in February. The children said they were told the boy would be resurrected as Jesus and guide them on which "corrupt institutions" to attack, NBC reported citing investigators.
Yesterday, a Democratic state judge named Sarah Backus in New Mexico caved to political correctness pressure from the defense attorney of the adults in the compound. She granted bail/bond to the five Islamic radicals that had been taken into custody and said they were not a threat to the community. Backus granted each suspect an unsecured bond, clearing the way for them to be released pending trial. Prosecutors argued the family had trained children in the use of firearms in the rural compound and should remain in custody. But an attorney for one suspect said they were following religious rituals that might be viewed differently if they were white Christians instead of black Muslims.
But there have been further developments in regards to letting these individuals out on bail. Jany Leveille, one of the five suspects arrested at the "extremist Muslim" compound in northern New Mexico, has been transferred to the custody of U.S. Citizenship and Immigration Services (USCIS), Taos County Sheriff Jerry Hogrefe said Tuesday. The remaining detainees are currently still in custody, the sheriff has said.
Siraj Wahhaj, 40, another suspect from the compound, is being held on an outstanding warrant from Georgia, while the three others allegedly involved, Lucas Morten, Hujrah Wahhaj, and Subhannah Wahhaj are still incarcerated pending the fulfillment of their release conditions. They were arrested on Aug. 4th at their compound near the Colorado state line. The judge set a $20,000 bond for each defendant and ordered that they wear ankle monitors and have weekly contact with their attorneys.
Notwithstanding all of that, it would seem that Judge Sarah Backus has a history of treating dangerous individuals with kid gloves. "Just last month, she set a $10,000 bond for Rafael Orozco, a 24-year-old Taos man accused of battering his girlfriend, his newborn child and a healthcare worker at Holy Cross Hospital in September 2016."
This time, she really went off the deep end. She flat out denied prosecutors a request to keep the five suspected Islamic radicals locked up indefinitely, even though their actions seem to warrant that action. If they were indeed using the compound to train these children to carry out terroristic attacks at a school, why would you let them out this way? "State prosecutors said there was evidence that some of the suspects could have been planning an attack, adding that lead suspect Siraj Ibn Wahhaj, who faces child abduction charges in Georgia, took weapons classes and books found at the compound described how to build firearms," Australian station NTD reported. So, we get that news from the Australians first. That's shameful.
Backus is now saying that she has received tons of death threats over this:
"Backus has received more than 200 threats, according to Barry Massey, a spokesman for New Mexico Courts. Callers have threatened physical violence against Backus, including some people who threatened to slit Backus' throat and smash her head, Massey said. People also lashed out on social media and also threatened court staff, Massey said.
"Most callers have criticized the judge and the decision and called her names, such as "an Islamic terrorist sympathizer" or "disgusting garbage human," Massey said."
They even had to evacuate the courthouse due to supposed threats. That's insane.
I find it ironic that a leftist judge lets five terrorists out on bail and is shocked that she is getting death threats over it. Don't get me wrong… no one should ever threaten another like this, but it is hardly surprising. It figures that this judge would make herself out to be the victim here. She lets terrorists go free and becomes a victim of terrorism herself. Now, that's what I call definitely ironic. It probably never crossed her mind the danger she was putting others in or the fear generated that releasing those plotting against their children in school surely caused in the community. Crime is never real to some people until they experience it firsthand.
Anyone who threatens someone's life should be held accountable. But a judge that would let those who are obviously plotting harm to others go free should be removed from the bench in my opinion. Those who threatened this judge should face justice, but so should the supposed terrorists she so casually released. They are not only a severe flight risk but a security risk as well.