Washington Nails Undocumented Migrant Horde – $17.8B Obstacle Approved
The House Appropriations Committee has recently approved the budget for the 2019 fiscal year. The budget is currently getting mixed reviews even from some on the right. Of significant concern is the White House's midyear budget projections forecasting the current federal deficit to surpass $1 trillion.
In an annual budget review, the White House's Office of Management and Budget (OMB) estimated that new legislation enacted since the release of its February budget — alongside new projections on other spending and receipts — would add $101 billion more to the 2019 deficit, pushing it above $1 trillion. That figure is estimated at about 5.1% of the United States's gross domestic product, the nation's total economic output.
Sen. Mike Lee (UT-R) states of his desire for a balanced budget – "The American people want a balanced budget. They want Congress to stop this barbaric practice of perpetual deficit spending. It really, if you think about it, is a form of taxation without representation. We fought a war over that issue and we won that war." Sen. Rand Paul (KY-R) echoes that sentiment and calls out hypocrisy, stating – "If you were against President Obama's deficits, and now you're for the Republican deficits, isn't that the very definition of hypocrisy?"
Paul went on to say – "I think if you're for tax cuts and for increasing spending that's hypocritical. But if you're for tax cuts and you're also for cutting spending a corresponding amount — see, I would offset the tax cuts with spending cuts, and there are a few of us that would actually do that. I'm still against deficit spending just because Republicans are doing it doesn't make it any better."
Yet it is clear balance is needed to achieve what is necessary for the United States to function and there are issues that need to be addressed. Of note and addressing current significant concerns with regards to securing the U.S./Mexico border, the budget provides $5 billion for a southern border wall.  It also provides additional funding for border security whose purpose is to achieve "100 percent scanning" of the border within the next five years.
The Washington Examiner reports – "The Homeland Security appropriations subcommittee measure would fund more than 200 miles of "new physical barrier construction" along the U.S.-Mexico border.
The legislation also includes $223 million to add 375 additional border patrol agents above the Trump administration request, including 140 canine teams, that, according to the House Appropriations Committee, will "initiate a five-year strategy toward achieving 100 percent scanning on the southern border."
The measure increases the budget for Immigration and Customs Enforcement by $328 million over fiscal 2018. Of that new funding, $78 million is allotted for the hiring of 400 additional ICE agents and support staff."
The fiscal 2018 spending measure allocated just $1.6 billion for border security. Though it is important to note that when Congress approved the $1.6 billion back in March for border fencing it added so many conditions and additional spending priorities, in reality, the bill only funded roughly 50 miles of new border fence. This is a significant step up.
In a statement from Rep. Kevin Yoder (KS-R) this bill  "provides the resources to begin building a wall along our southern border, enhance our existing border security infrastructure, hire more border patrol agents, and fund detention operations." Yoder is the current chair of the Homeland Security panel of the House Appropriations Committee.
According to Breitbart – "The bill is expected to pass the House but be blocked in the Senate, where the 49 Democrats can block any legislation until the GOP's leadership meets some of their demands. So far, Senate Democrats have bitterly opposed President Donald Trump immigration programs and reforms, especially his plan to build a border wall.
The Senate bill, announced June 19, provides $1.6 billion to build only 65 miles of fencing in the Rio Grande Valley.
Democrats are also being pushed by their left to block funding for domestic enforcement of the immigration laws, even though the "Abolish ICE" goal is very unpopular.
The House bill includes $5.5 billion in an account for building the wall – but also for buying various boats and aircraft, so it is not clear how much can be spent on the wall.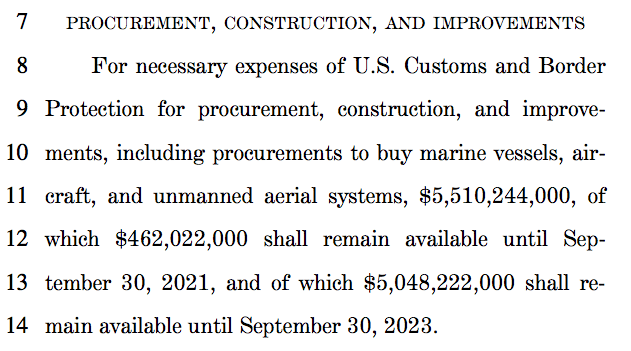 The House bill funds a small increase in detention beds — up to 44,000 — and allows for the hiring of just 400 new iCE officers."
According to the House committee, the 2019 bill includes extra funding for the two primary border enforcement agencies and lists as the following –
Customs and Border Protection (CBP) – The bill contains $17.8 billion in discretionary appropriations for CBP – an increase of $3.8 billion above the fiscal year 2018 enacted level. These resources ensure our borders are protected by putting boots on the ground, improving infrastructure and technology, and helping to stem the flow of illegal goods both into and out of the country. Within this total, the legislation includes:
$5 billion for border security assets and infrastructure, for over 200 miles of new physical barrier construction along the southern border and $126 million for border technology.
$223 million for new non-intrusive inspection equipment and 140 new CBP canine teams to initiate a five-year strategy towards achieving 100 percent scanning on the southern border.
375 new CBP Officers above the request.
$108 million specifically for opioid detection at international mail and express consignment facilities.
$142 million for new aircraft and sensors to include one new large unmanned aircraft system and three multi-role enforcement aircraft.
Immigration and Customs Enforcement (ICE) – The bill provides $7.4 billion for ICE – $328 million above the fiscal year 2018 enacted level. Within this total, the legislation includes:
$78 million to hire over 400 additional law enforcement officers and support staff.
$1.9 billion – an increase of $275 million above the requested level – for domestic and international investigations programs, including efforts to combat human trafficking, child exploitation, cybercrime, visa screening, and drug smuggling.
$4.1 billion for detention and removal programs, including 44,000 detention beds, an increase 3,480 beds over fiscal year 2018.
White House Guests KNEEL During National Anthem, Trump Makes Them Immediately Regret It
The Marine Corp band in their bright red uniforms were on the south balcony of the White House on a bright, sunny Tuesday in Washington, DC. The Army Chorus sang, beginning the event with 'America the Beautiful' and concluded with 'God Bless America'. At least two people who were guests at President Trump's Celebration of America event yesterday knelt, showing exactly why so many Americans are ticked over the National Anthem controversy.
The event replaced a celebration at the White House in honor of the Super Bowl win for the Philadelphia Eagles. These two disrespectful idiots took a knee as the "Star Spangled Banner" rang out across the South Lawn of the White House. Simply disgraceful. These aren't social justice warriors… these are unpatriotic jerks.
A video was posted to Twitter by a reporter for SVT, the Swedish national public TV broadcaster. It shows a man, wearing a light blue button down, kneeling as the National Anthem played, before clapping and ultimately coming to his feet after the song finished. I guess he thought that was his five minutes of fame or something.
Should President Trump shut the border down now with no more warnings about it or delay?

— Amanda Shea (@TheAmandaShea) November 26, 2018
What it really amounted to was making a fool out of himself internationally. President Trump showcases all of these liberal dimwits for what they are… America-hating, radical leftists who are far more interested in hating our brave police officers and our country than they are in respecting America and taking national pride in their country and President.
When President Trump took the podium, he blew his audience away with his love for our country, military, police, flag and the National Anthem. He made every single person who disrespects them like this look like the small, craven liberals that they really are. The man, who did not identify himself, left the event immediately after the United States Marine Band performed the anthem, according to a news anchor for TV2 Denmark. Gee, crawling away with his tail between his legs like the lowly cur he his. Guess he couldn't stand patriotism after he showed how much he hates his own country.
A man takes a knee during Trump's celebration. pic.twitter.com/zghJSk2YOu

— Carina Bergfeldt (@carinabergfeldt) June 5, 2018
There was a second man who was pictured kneeling as well. That was posted to Twitter by a CNN White House producer. He was wearing a light blue checkered shirt and had a little American flag. This guy was right up front. He was also apparently the same person who reportedly heckled Trump. That guy was roundly booed by everyone around him. CNN's analyst April Ryan posted false news on Twitter yesterday claiming people were booing Trump when it was the heckler they went after. She eventually retracted what she said after her own colleagues called her out on the lie. "Stop hiding behind the armed services and the National Anthem," the guy yelled to a chorus of boos, according to the Daily Mail. "Let's hear it for the Eagles." "Go home," one person shouted at the heckler.
Do YOU think we have the best President and First Lady ever? Follow Amanda Shea on Twitter to get RIGHT daily insight!
The President didn't engage the heckler, but looked in his direction and pursed his lips. He looked like he wanted to smack him. Right there with ya.
President Trump disinvited the Philadelphia Eagles to the White House after they at first said they had more than 70 players coming to the People's House to celebrate. By this week, that number had dropped to less than ten and then to only one player. They kept trying to change the date to one where President Trump would be out of the country. I don't blame the President in the least for canceling the visit. That was totally appropriate. If you insist on being ungrateful and insulting a sitting President of the United States, then you don't deserve the honor of going to the White House period.
Trump claimed on Monday that the team disagreed "with their President because he insists that they proudly stand for the National Anthem, hand on heart, in honor of the great men and women of our military and the people of our country." Eagles players denied that accusation, pointing out that no one on the team knelt for the anthem during last season. But that has nothing to do with how each individual on the team states his beliefs and shows his disrespect for President Trump.
The man who was booed after shouting @ POTUS also took a knee during the anthem but appears to also sing the anthem while kneeling, based on pic by Olivier Douliery/ TNS. (He was behind me & I didn't turn around until I heard him shouting) pic.twitter.com/qwuqpEXrOE

— Noah Gray (@NoahGrayCNN) June 5, 2018
White House Press Secretary Sarah Huckabee Sanders accused the team of a "political stunt" just minutes before Tuesday's alternative event began, claiming the players had chosen to "abandon their fans." That's exactly what they did. "If this wasn't a political stunt by the Eagles franchise then they wouldn't have committed to attend the event and then backed out," she said in her Tuesday press briefing. "And if it wasn't a political stunt, they wouldn't have attempted to reschedule the visit while the President was overseas."
Trump was brief in his remarks and only spoke for about four minutes. He began by explaining why it's an issue of patriotism for Americans to stand for the National Anthem. "We love our flag and stand for our National Anthem," Trump said to great applause from the crowd on the South Lawn of the White House. "We stand to honor our military and to honor country and to honor the fallen heroes who never made it back home." Yes, we do… and those that don't can take a hike.
At The White House. One guy in the audience took a knee during the national anthem at President Trumps celebration of America no Eagles event. Left right after – didn't wanna talk pic.twitter.com/NLRGp26gln

— Jesper Zølck (@zolckTv2) June 5, 2018
Melania Unveils This Year's White House Christmas Decorations That Libs Are SURE To Hate
Melania Trump's first year in office was marked by immense criticism of our incredible first lady, who in the eyes of the Trump family's numerous detractors, Melania could do nothing right, or at least as well as her predecessor, Michelle Obama. This included her full Christmas decor plan, which was stunning in silver and white, and a beautiful modern take on the same tired style that Michelle un-creatively came up with.
This year's decorations will likely be no different, if not worse.
Last year, liberals claimed she decked the halls in depression and gloom, likening it to looking more like a haunted house than a holiday home. So, what will they say about this year's new look?
Congrats, @MichelleObama, for reaching the highest level of arrogance in being offended that @FLOTUS didn't ask for your advice on doing the job. Don't worry, she learned what not to do by watching you.#MAGA #Trump2020 #MelaniaTrump #MichelleObama #FLOTUS

— Amanda Shea (@TheAmandaShea) November 13, 2018
Chicks On The Right reports:
FLOTUS doesn't just slay on the fashion front. Her decorating skills are off the charts. (Yes, yes– I know she didn't do this by herself, but if you really believe she didn't have a say, you're nuuuuuuuuuuuuts.)
ANYWHO. She finally unveiled this year's White House Christmas decorations, and they're GORGEOUS.
The People's House @WhiteHouse is ready to celebrate Christmas and the holiday season! pic.twitter.com/oejKW3mC15

— Melania Trump (@FLOTUS) November 26, 2018
You have no idea how much I want to stroll through those halls of beautifully decorated trees. Oh well. I'll have to settle for the aisles of Hobby Lobby.
The @WhiteHouse is sparkling for the Christmas season! pic.twitter.com/ncNhlkZAWl

— Melania Trump (@FLOTUS) November 26, 2018
It all looks great. I'm obsessed. TY, that is all.
Should President Trump shut the border down now with no more warnings about it or delay?

— Amanda Shea (@TheAmandaShea) November 26, 2018