Washington Nails Undocumented Migrant Horde – $17.8B Obstacle Approved
The House Appropriations Committee has recently approved the budget for the 2019 fiscal year. The budget is currently getting mixed reviews even from some on the right. Of significant concern is the White House's midyear budget projections forecasting the current federal deficit to surpass $1 trillion.
In an annual budget review, the White House's Office of Management and Budget (OMB) estimated that new legislation enacted since the release of its February budget — alongside new projections on other spending and receipts — would add $101 billion more to the 2019 deficit, pushing it above $1 trillion. That figure is estimated at about 5.1% of the United States's gross domestic product, the nation's total economic output.
Sen. Mike Lee (UT-R) states of his desire for a balanced budget – "The American people want a balanced budget. They want Congress to stop this barbaric practice of perpetual deficit spending. It really, if you think about it, is a form of taxation without representation. We fought a war over that issue and we won that war." Sen. Rand Paul (KY-R) echoes that sentiment and calls out hypocrisy, stating – "If you were against President Obama's deficits, and now you're for the Republican deficits, isn't that the very definition of hypocrisy?"
Paul went on to say – "I think if you're for tax cuts and for increasing spending that's hypocritical. But if you're for tax cuts and you're also for cutting spending a corresponding amount — see, I would offset the tax cuts with spending cuts, and there are a few of us that would actually do that. I'm still against deficit spending just because Republicans are doing it doesn't make it any better."
Trending: Mark Zuckerberg Just Stole $315,000 From A Triple-Amputee Vet
Yet it is clear balance is needed to achieve what is necessary for the United States to function and there are issues that need to be addressed. Of note and addressing current significant concerns with regards to securing the U.S./Mexico border, the budget provides $5 billion for a southern border wall.  It also provides additional funding for border security whose purpose is to achieve "100 percent scanning" of the border within the next five years.
The Washington Examiner reports – "The Homeland Security appropriations subcommittee measure would fund more than 200 miles of "new physical barrier construction" along the U.S.-Mexico border.
The legislation also includes $223 million to add 375 additional border patrol agents above the Trump administration request, including 140 canine teams, that, according to the House Appropriations Committee, will "initiate a five-year strategy toward achieving 100 percent scanning on the southern border."
The measure increases the budget for Immigration and Customs Enforcement by $328 million over fiscal 2018. Of that new funding, $78 million is allotted for the hiring of 400 additional ICE agents and support staff."
The fiscal 2018 spending measure allocated just $1.6 billion for border security. Though it is important to note that when Congress approved the $1.6 billion back in March for border fencing it added so many conditions and additional spending priorities, in reality, the bill only funded roughly 50 miles of new border fence. This is a significant step up.
In a statement from Rep. Kevin Yoder (KS-R) this bill  "provides the resources to begin building a wall along our southern border, enhance our existing border security infrastructure, hire more border patrol agents, and fund detention operations." Yoder is the current chair of the Homeland Security panel of the House Appropriations Committee.
According to Breitbart – "The bill is expected to pass the House but be blocked in the Senate, where the 49 Democrats can block any legislation until the GOP's leadership meets some of their demands. So far, Senate Democrats have bitterly opposed President Donald Trump immigration programs and reforms, especially his plan to build a border wall.
The Senate bill, announced June 19, provides $1.6 billion to build only 65 miles of fencing in the Rio Grande Valley.
Democrats are also being pushed by their left to block funding for domestic enforcement of the immigration laws, even though the "Abolish ICE" goal is very unpopular.
The House bill includes $5.5 billion in an account for building the wall – but also for buying various boats and aircraft, so it is not clear how much can be spent on the wall.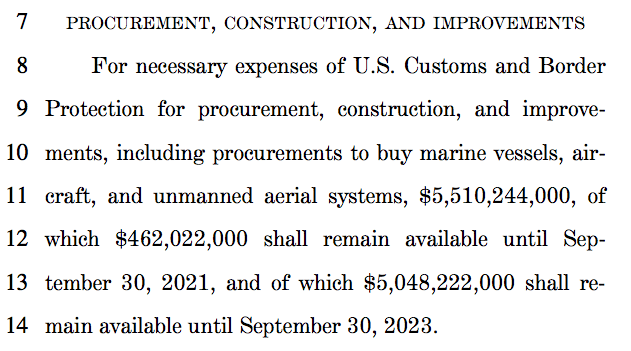 The House bill funds a small increase in detention beds — up to 44,000 — and allows for the hiring of just 400 new iCE officers."
According to the House committee, the 2019 bill includes extra funding for the two primary border enforcement agencies and lists as the following –
Customs and Border Protection (CBP) – The bill contains $17.8 billion in discretionary appropriations for CBP – an increase of $3.8 billion above the fiscal year 2018 enacted level. These resources ensure our borders are protected by putting boots on the ground, improving infrastructure and technology, and helping to stem the flow of illegal goods both into and out of the country. Within this total, the legislation includes:
$5 billion for border security assets and infrastructure, for over 200 miles of new physical barrier construction along the southern border and $126 million for border technology.
$223 million for new non-intrusive inspection equipment and 140 new CBP canine teams to initiate a five-year strategy towards achieving 100 percent scanning on the southern border.
375 new CBP Officers above the request.
$108 million specifically for opioid detection at international mail and express consignment facilities.
$142 million for new aircraft and sensors to include one new large unmanned aircraft system and three multi-role enforcement aircraft.
Immigration and Customs Enforcement (ICE) – The bill provides $7.4 billion for ICE – $328 million above the fiscal year 2018 enacted level. Within this total, the legislation includes:
$78 million to hire over 400 additional law enforcement officers and support staff.
$1.9 billion – an increase of $275 million above the requested level – for domestic and international investigations programs, including efforts to combat human trafficking, child exploitation, cybercrime, visa screening, and drug smuggling.
$4.1 billion for detention and removal programs, including 44,000 detention beds, an increase 3,480 beds over fiscal year 2018.
Simone Biles Speaks Out After Interim USA Gymnastics President Blasts Nike and Kaepernick
Political correctness is a severe cancer in this world. I'm so tired of people apologize for something that needs no apology. If you are going to speak out about something…don't apologize.
Don't worry Simone Biles, it's not like people are entitled to their opinion or that are shills for Big Corporations like dictating how everyone should think.
Dear Simone, stick to being a gymnast. Go on and keep making your money from a fascist company.
From Western Journal:
USA Gymnastics has found itself mired in perpetual controversy in recent years
The snowball began rolling in earnest when the horrific allegations of sexual abuse against team doctor Larry Nassar surfaced in 2015.
Obviously, Nassar's actions are unforgivable and he deserves every last second of what is effectively a life sentence in prison.
After taking care of Nassar, the hounds of justice set their sights on USA Gymnastics itself. Any organization that could have been so unaware of the horrors taking place right under its nose deserve the accompanying scrutiny.
Former USA Gymnastics president Steve Penny was forced to resign by the USOC after his horrible mishandling of the Nassar scandal.
His replacement, Kerry Perry, also ended up being forced to resign after her leadership was questioned by USOC.
Now, Perry's replacement, Mary Bono, has also found herself in controversy, though nothing as serious as the last two.
Bono, a former Republican congresswoman in California, was barely on the job when a month-old tweet of hers resurfaced.
"Playing in a charity golf tournament raising for our nation's Special Forces operators and their families. Unfortunately, had these shoes in my bad. Luckily I had a marker in my bag too," Bono said in a since-deleted tweet.
The accompanying picture showed her using a black marker to hide the Nike logo on a shoe.
Regardless of how you feel about Nike's divisive ad featuring Colin Kaepernick, Bono is more than entitled to her opinion. Yes, she put Nike, and by extension Kaepernick, on blast for the latter's rhetoric. But she's hardly exclusive in her feelings. Bono is just one of many Americans who feel that Kaepernick's anthem protests were disrespectful to the flag, the military and the police.
While Bono is obviously allowed to voice her opinion, she unfortunately also drew the ire of her organization's premiere athlete, Olympic gold medalist Simone Biles.
*mouth drop*

don't worry, it's not like we needed a smarter usa gymnastics president or any sponsors or anything https://t.co/cYQizcjywn

— Simone Biles (@Simone_Biles) October 13, 2018
"Don't worry, it's not like we needed a smarter usa gymnastics president or any sponsors or anything," Biles wrote in a blistering response tweet prefaced by a "mouth drop."
While USA Gymnastics hasn't had a team sponsor since late 2017, Biles is personally sponsored by Nike, according to ESPN.
Perhaps realizing that Biles is the one gymnast she cannot afford to alienate, Bono promptly deleted the tweet and issued an apology.
I regret the post and respect everyone's views & fundamental right to express them. This doesn't reflect how I will approach my position @USAGym I will do everything I can to help build, w/ the community, an open, safe & positive environment.

— Mary Bono (@MaryBonoUSA) October 14, 2018
"I regret the post and respect everyone's views & fundamental right to express them. This doesn't reflect how I will approach my position @USAGym I will do everything I can to help build, w/ the community, an open, safe & positive environment," Bono said in her apology tweet.
It would be nice to think that this will be the final controversy USA Gymnastics will have to deal with for a while. But if recent history is any indication, that seems almost impossible.
INCREDIBLE Sight Last Night in Pensacola Florida Last Night Before Trumps Arrival
President Trump is an awesome human being. You don't have to call and beg for help on President Trumps watch, with ever disaster he has been there for each one.
This is a man who truly cares for the American people. It's nice to have a President that cares.
From ABC News:
Five days into the aftermath of the most disastrous hurricane to hit the Florida Panhandle, survivors are beginning the long road to recovery as officials continue to search for dozens still missing.
Hurricane Michael's death toll has climbed to 18.
Officials expected the number of people killed by the storm to increase as crews sifted through the wreckage of once-bustling oceanside cities, including Mexico Beach and Panama City Beach, the Associated Press reported.

View of the damaged caused by Hurricane Michael in Mexico Beach, Fla., Oct. 13, 2018.

Candace Phillips sifts through what was her third-floor bedroom while returning to her damaged home in Mexico Beach, Fla., Oct. 14, 2018, in the aftermath of Hurricane Michael.
The powerful storm sounded like a freight train when it barreled into Panama City, said resident Jackie Lane, who was overcome with emotion recalling her experience to ABC News on Monday.
Video shows the massive response to Florida to help rebuild after Hurricane Michael. Utility worker Brian Kannada recorded it at the Pensacola Fairground, which is full of equipment awaiting departure to Panama City. https://fxn.ws/2PysWha

Posted by Fox News on Sunday, October 14, 2018
Lane, her husband and her son rode out the storm in an inn down the street from her home. She and her son raced into the bathtub, she said, as her husband sat on the floor and put his feet up against the bathroom door to hold it.
"It was already splitting," she said of the door, her voice shaking, "and the roof came, the ceiling came off."
"For about three hours it just sucked us in and sucked us out, sucked us in and sucked us out," she said. "I thought I was gonna lose my husband cause the door was cracking. And the stove and refrigerator that was in there, we could hear them just backing together and clanging around. We seen the stove fly across us. We seen all the debris, trees, pieces of everything."
The entire second story of that inn is now gone.
"We lost everything," Lane said. "We're lucky to have our lives."

Lavonia Fortner helps her father-in-law, John E. Fortner, search for memorabilia his wife collected, in the aftermath of Hurricane Michael in Mexico Beach, Fla., Saturday, Oct. 13, 2018.
In nearby Mexico Beach, another town pulverized by Michael, 46 of those who didn't evacuate were missing still missing on Sunday, the city's mayor told ABC News.
Mayor Al Cathey said 289 people, including 10 children, decided to stay put despite evacuation orders, and rode out the Category 4 storm that made landfall on Wednesday. Michael devastated homes and businesses in Mexico Beach, which has a population of nearly 1,200.

This satellite image provided by DigitalGlobe shows part of Mexico Beach, Fla., Oct. 12, 2018.
Of the 18 people killed as the hurricane swept through the Florida Panhandle, Virginia, Georgia and North Carolina, only one confirmed death was reported in Mexico Beach. When Michael made landfall there, winds topped out around 155 mph.
Police made two sweeps of Mexico Beach on Wednesday morning and recorded the names of everyone who planned to stay, though officials said it's impossible to know who might have left during or immediately after the storm.

View of the damaged caused by Hurricane Michael in Mexico Beach, Fla., Oct. 13, 2018.
Michael knocked out power across the South, and Sunday night almost 700,000 remained powerless across five states, including 188,000 in Florida.
The storm not only destroyed homes and business in the city, it destroyed the Mexico Beach Police Department.
"We don't have a building — from my understanding, the water surge moved it off its foundation," Police Chief Anthony Kelly told ABC News on Friday. "The officers, I finally made accountability of them all today, two days after the fact. … They're not just my officers, the people that I work with, they're my family."
Emily Mitchell returned on Saturday afternoon to what was left of the house her family owned in Mexico Beach. The roof was ripped off and walls were blown in. She called it a "total loss."